This is an archived article and the information in the article may be outdated. Please look at the time stamp on the story to see when it was last updated.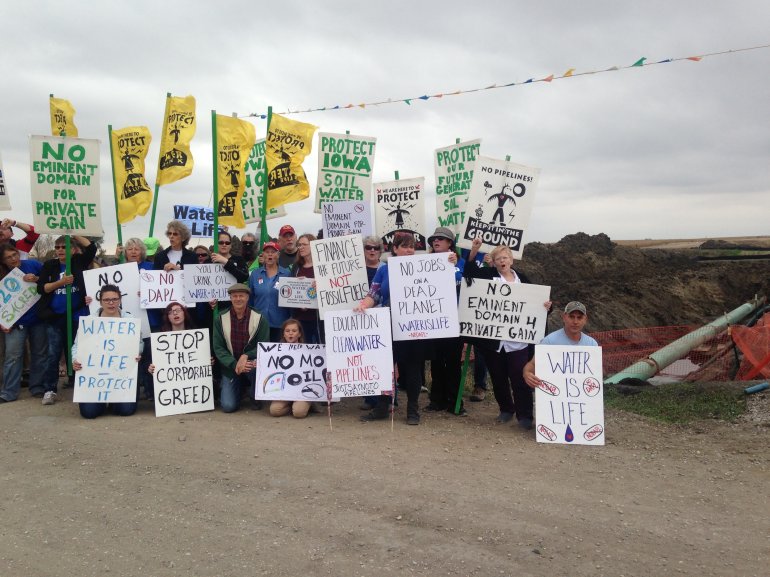 Bakken Pipeline protesters took action Saturday at a construction site just east of Rockwell City in Calhoun County.
"There were maybe 20 of us who maybe went out to the field near the caterpillar just to make a point that this is as far as it should go" said Nancy Huising
The group stood in front of the bulldozer for about 15 minutes, halting construction.
"They knew we were coming, that's why the moved off the land owners properties we were going to stand and defend so we consider that a victory we stopped construction on those properties today" said protest leader and director of BOLD Iowa, Ed Fallon.
That is, until the county sheriff and several state troopers showed up.
"They were very accommodating, they were very polite.  They asked us to leave and said we could have a minute to have a little meeting and decide what we wanted to do, they were great" said Huising.
The protesters decided to leave the property rather than be arrested for trespassing. Police officers did not make any arrests and were greeted with chants of "give police a raise!"
The protesters say even though the protest was cut short, that every minute they stop construction counts.
"There's a lawsuit here by landowners that say the companies should not have been given eminent domain and I think it's a really strong case, so the more time we can help buy them the better, and the more time we can give the federal government the better" said Fallon.
For others though, the protest was much more personal.  Marisa Cummings is a member of the Omaha Tribe who feels deeply connected to the land.
"It was really emotional for me to actually see across where you can see the pit where the pipeline has been laid" she said.
While others took pictures with their signs she slipped away to pray.
"Just when I think of that image it's really emotional so I just wanted to offer my tobacco back to our earth mother and thank her for everything that she gives us" Cummings said through tears.
After the demonstration several smaller groups split off to find other construction sites to protest.