This is an archived article and the information in the article may be outdated. Please look at the time stamp on the story to see when it was last updated.
DES MOINES, Iowa -- If you've been to the East Village lately, you've probably noticed something new on the street: protected bike lanes.
East Grand Ave. is the first part of a pilot program called the Connect Downtown Plan.
The regular lanes of travel are now narrower to slow down traffic and decrease accidents and with that additional space, a protected bike lane was put in.
Brian Willham with the City of Des Moines Traffic Division said the dimensions of the lanes on East Grand Ave. are 10 foot travel lanes, 8 foot parking lanes, 3 foot buffer zones and 7 foot bike lanes.
"The Connect Downtown Plan is studying the feasibility of converting one-way streets to two-way streets, narrowing or reducing vehicle travel lanes to slow down traffic and make walking safer and more attractive, and add a protected bike lane network throughout downtown to connect to our trail system already in place," Willham said.
The current program will stay in place for about a year to get feedback from the community and the Des Moines City Council.
"If supported by the community and city council after the test period, this project would be upgraded to be permanent, meaning the painted islands and white delineators would be replaced by raised concrete islands. The street elements seen on East Grand Avenue would be similar to what you would see elsewhere downtown on streets where we would have the protected bike lanes, again if supported to move ahead," Willham said.
This pilot program aims to make walking and biking downtown safer and more attractive.
"We believe everyone deserves to be safe on our roads, no matter their income level or whether they walk, bike, or drive. These protected bike lanes will make East Grand a better place for everyone, and we look forward to seeing them in more places," Board Chair of the Des Moines Bike Collective Scott Bents said.
Carl Voss, avid cyclist and part of the Des Moines Bike Collective, said he feels safer riding downtown and that similar systems exist in cities like Chicago and Minneapolis.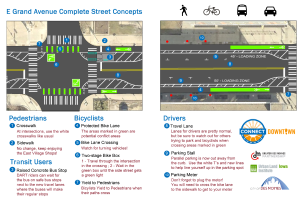 "Protected bike lanes bring out more female riders and as you get closer to a gender balance, that shows you are a bike friendly community and also new riders. We like to say that are streets are for everyone from 8 to 80. So hopefully we will see more children out and a nice mix of people on the streets," Voss said.
Willham said they are already planning some changes, like moving the delineators back at intersections so that it's easier for larger vehicles to turn.
So how it works is the bike lane is closest to the curb, then the delineators, and then the parking lane.
"Now there's a buffer area between the travel lane and the bicyclists. So that's really important for newbie bike riders and in the Des Moines area people that are more used to riding on trails. They don't worry about traffic and getting out on the streets and getting to locations, to work, to the library, to shop and using their bikes," Voss said.
To provide feedback on the new program you can go here and add a comment.