This is an archived article and the information in the article may be outdated. Please look at the time stamp on the story to see when it was last updated.
Johnston police have made three arrests in an investigation into services provided at a local massage business.
After receiving complaints and tips about Asian Body & Relaxation Center at 5249 Merle Hay Road, formerly known as Asian Massage, undercover officers were sent into the business.
The undercover operation was conducted Wednesday and yielded three arrests.
Fifty-three-year-old Fengzhen Wei is charged with prostitution and operation without proper licensing. Fifty-three-year-old Haixin Liu and 54-year-old Jinfeng Qin are charged with operation without proper licensing.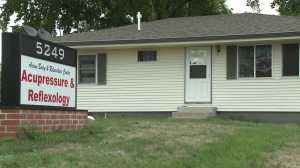 "We noticed some unusual hours of operation, predominately male clientele, we also had social media ads associated with this on Backpage and other places that typically you'll find advertisements for prostitution," Lt. Lynn Aswegan of Johnston police said.
Debbie Richmond works next door at Budget Storage.  She says she never imagined there any funny business was going on at this massage business and the clientele seemed pretty normal.
"Businessmen it looked like – nice cars – never knew what was going on," Richmond said.
The massage parlor was not forced to close and remained open Thursday.