This is an archived article and the information in the article may be outdated. Please look at the time stamp on the story to see when it was last updated.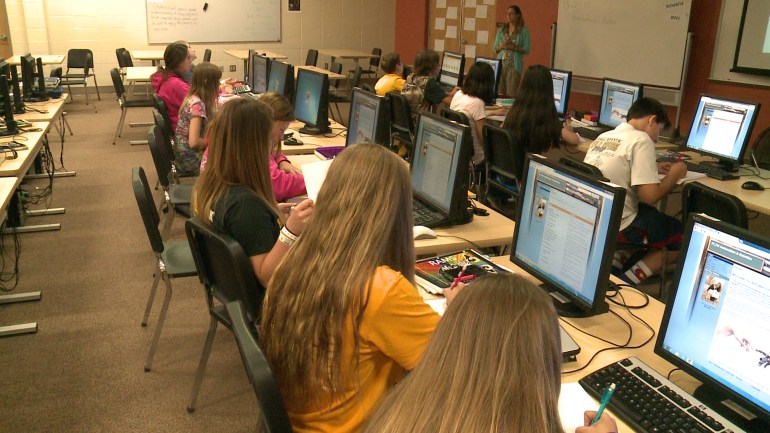 PLEASANT HILL, Iowa – Students, teachers and parents are becoming familiar with a term called STEM, which stands for science, technology, engineering and math. A program aimed at training students in those career fields has been in schools around the country for more than a decade, and it recently expanded to reach younger students.
Southeast Polk Junior High Science Teacher Elaine Perry teaches an eight grade course called Automation and Robotics this year. She said, "As we go through, we talk about what is engineering, why are we learning about STEM, why is it so important, especially in the world that we live in today."
It's part of Project Lead the Way, a nationwide initiative that's been in schools around the country for about ten years. SEP Science Coordinator Jim Pifer said, "They started out with a middle school and high school program, and now last year they started a K-5 program."
Southeast Polk added Project Lead the Way to its curriculum last year for seventh graders. Now, it's also offered in high school and at Four Mile Elementary. Pifer said, "Really the students, especially the girls, our female population, they start thinking about whether they like engineering or designing at an early age, maybe first or second grade they might start deciding whether they like something."
The district would like to get the program in all eight elementary schools soon, but it costs $15,000 to start the project in each building. Grants from businesses and the Southeast Polk Education Foundation have covered the cost so far. The district also needs on-going community involvement. Pifer said, "We need help, we need mentors. We have engineers that can come in and talk to our students, to do those kinds of things, job shadow opportunities and stuff."
The goal is to expose all students to technology fields at a young age. Perry said, "Getting them to think like engineers. That's why we go through the design process."
And, they hope to train future engineers like eighth Grade Student Nolan Larsen. He said, "I would like to do any type of engineering. I would like to be involved in that."
You can learn more about Project Lead the Way in the Southeast Polk schools at a forum. It is Monday, Aug. 31 at 6 p.m. in the high school auditorium located at 7945 University Avenue. You can also visit the SEP website.