This is an archived article and the information in the article may be outdated. Please look at the time stamp on the story to see when it was last updated.
VAN METER, Iowa — For nine months a set of parents from Van Meter watched their son battle a rare form of pediatric cancer. Last week, 5 – year – old Garrett Matthias died.
Once doctors told the family Garrett's cancer was terminal, they knew they could not put off learning of how their son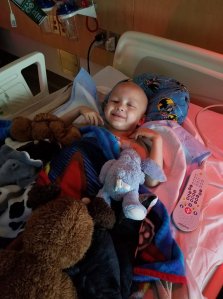 wanted to be remembered.
"We never necessarily talked about his funeral, so we never had the conversation with him that he was going to die but we had a lot of conversations around, 'when I die I want to do this,'" Garrett's mom Emilie says.
The 5 – year – old was a fan of all superheros and a lover of thrash metal music. He was a special kid and his obituary was a reflection of that. In the weeks and months leading up to his final breaths, parents Ryan and Emilie, carefully asked questions to learn how Garrett wanted to be remembered and celebrated.
The obituary starts by the boy introducing himself as "Garrett Michael Boofias," his name too difficult for him to pronounce. He later names who his favorite people are including the "grandparents who live in the new house", the "grandparents that live in the camper" and his stinky Uncle Andy.
"That`s him speaking. Those are his words verbatim," Ryan smiles. "When I read it . I'm just like 'wow'. Sounds like Garrett just yapping at me."
His obituary detailed all the things he loved and the things he wasn't fond of. However, in his final words the preschooler made some final requests, asking there not a funeral because "those are sad." Instead, Garrett asked for a party with five bounce houses, one for each year he lived, a visit from Batman and snow cones.
"You know why does it have to be sad," Emilie said tearfully.
The most unique request, a symbolic asgardian burial ceremony. Similar to that, in one of the boy's favorite movies Thor. All wishes, his parents promise to fulfill.
"We`ve cried oceans of tears in the last nine months but I think this is one of the things we can do to make his day special and not sad," Emilie says.
A celebration of life to honor Garrett's wishes will take place on Saturday July 14th from 5 p.m. – 11 p.m. at 2377 132 Court in Van Meter. The symbolic burial and fireworks will be held after sunset.