This is an archived article and the information in the article may be outdated. Please look at the time stamp on the story to see when it was last updated.
The Iowa State Pool Tournament held this weekend at Hy-Vee Hall has attracted more than 3,000 pool players from across the state.
For pool lovers this is their haven, a dimly lit room that gives no concept of time and it's a place where competition thrives.
At table number 13, the Benhke brothers are playing more than a game of pool.
Jerry Benhke says all he's ever wanted in life was boys to carry on a tradition, "I just got lucky that I ended up having four boys and there's five people on a team and they all enjoy playing."
Jerry played when he was a kid and then introduced his own children to the sport before they could even see over the pool table. Now the family members have become team members.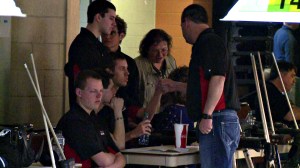 Their exploits have taken them from their home in Farley to Las Vegas and Germany.  Having played at some of the world's top competitions, it's brought in enough money to stash away for college and to even put a down payment on a house.
"We really enjoy it and it just kept us really close, I think a lot closer than most families," says son, Adam.
To them, it's not just about winning or money, it's about the experience, "If you could win an event like this it's something to be really proud of and if you do it with family members it makes it that's much greater."
They'll find out if they'll be champions during the final round of the tournament on Sunday.