This is an archived article and the information in the article may be outdated. Please look at the time stamp on the story to see when it was last updated.
DES MOINES, Iowa–On Thursday, new Iowa Governor Kim Reynolds will officially name State Public Defender Adam Gregg as her replacement to serve as lt. governor, sources close to the transition confirm, potentially setting off a series of legal proceedings.
Gregg was one of three candidates Reynolds interviewed. Reynolds, who was sworn in Wednesday as the state's first female governor, told Channel 13 earlier this month that she had made her decision but wouldn't elaborate.
Gregg, of Johnston, sat back in the 12th row in the audience in the Iowa Statehouse rotunda Wednesday morning to witness Reynolds' historic moment.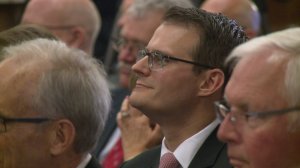 (Adam Gregg sat in the audience to watch Kim Reynolds get sworn in as governor on Wednesday.)
Former Governor Terry Branstad appointed Gregg, a Hawarden native, to serve as the State Public Defender in December, 2014. Gregg was the Republicans' nominee for attorney general earlier that year but lost to longtime Democratic incumbent Tom Miller.
Miller ruled on May 1st that Reynolds didn't have the legal authority to name her replacement as lt. governor. That was a reversal for Miller who previously said last December that Reynolds did have that authority.
Reynolds' appointment of Gregg could invite lawsuits and could ultimately necessitate a ruling from the Iowa Supreme Court to clarify whether a governor, who hasn't been elected, can appoint a lt. governor. Reynolds took over as governor on Wednesday when Governor Terry Branstad resigned to become Ambassador to China.
Reynolds' office did not confirm Gregg's appointment. But the administration has scheduled a news conference at 10am Thursday.