This is an archived article and the information in the article may be outdated. Please look at the time stamp on the story to see when it was last updated.
DES MOINES, Iowa–Cedar Rapids Mayor Ron Corbett told Channel 13 that he plans to make a decision within the next 45 days about whether to take part in a potential Republican primary for governor next year against current Lt. Governor Kim Reynolds.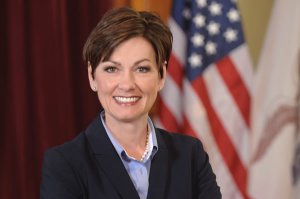 (Iowa Lt. Governor Kim Reynolds)
Presumably, Reynolds would be the incumbent governor in 2018, providing that current Governor Terry Branstad wins U.S. Senate confirmation to become the next U.S. Ambassador to China.
This week Corbett began a tour of the state, promoting his new book, "Beyond Promises." Corbett said the book is important to show how Cedar Rapids has redeveloped itself during the devastating 2008 floods.
Corbett already announced he won't seek another term as mayor when his terms expires at the end of the year. He is a former speaker of the house and leads Engage Iowa, a conservative think tank.
Watch his conversation with Political Director Dave Price on the Channel 13 News at 4 Monday.