This is an archived article and the information in the article may be outdated. Please look at the time stamp on the story to see when it was last updated.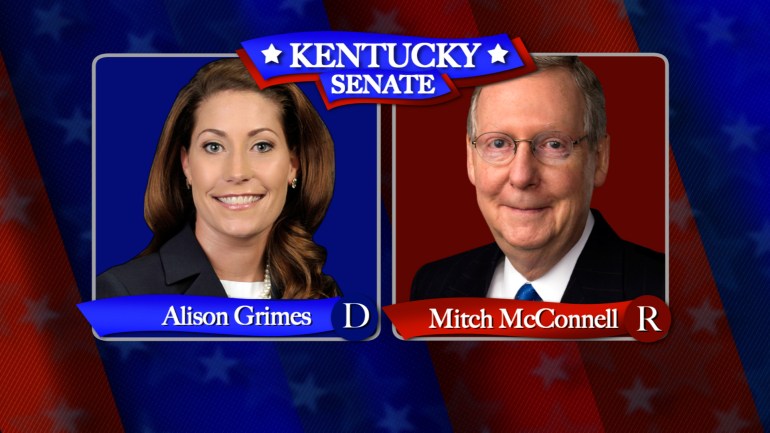 Republican Sen. Mitch McConnell has won re-election in Kentucky, staving off Democratic challenger Alison Lundergan Grimes, according to a CNN projection.
Republicans expect McConnell to lead the Senate if his party wins control of the upper chamber.
McConnell, who as Senate Republican leader already is one of the most powerful politicians in Washington, on Tuesday defeated his 35-year-old Democratic challenger, in one of the most expensive contests of the campaign cycle.
Grimes proved to be a surprisingly formidable opponent and was close in many polls throughout the campaign.
Despite her political inexperience, Grimes forced the veteran incumbent to stay on offense throughout the campaign. Grimes got high-profile visits from top Democrats like Bill and Hillary Clinton and Sen. Elizabeth Warren of Massachusetts.
But President Barack Obama was the Democrat who McConnell tried to associate mostly with Grimes, arguing she would be a rubber stamp for his policies, many of which are deeply unpopular in Kentucky.
Grimes stumbled late in the campaign when she repeatedly refused to say whether she had voted for the President.
Grimes told voters it was time to out McConnell in favor of a fresh voice in Washington. Calling him "Sen. Gridlock" and "Sen. Shutdown," she argued McConnell was one of the root causes of dysfunction in the capital.
McConnell ran on his support for coal, gun rights and other issues popular with Kentucky voters. But he also presented himself as a change agent in Washington, despite his 30 years in the Senate.
"The only thing they can do in 2014 to begin to change the direction of the country is to change the makeup of the Senate," McConnell told CNN's Dana Bash in a September interview.