This is an archived article and the information in the article may be outdated. Please look at the time stamp on the story to see when it was last updated.
Another Iowan wants you to send him to Congress.
Brad Zaun's announced Tuesday he wants to fill Rep. Tom Latham's seat.
"On the whole, I think D.C. is a terrible place. It's hot. It's humid. It even smells," Zaun joked. But he can't wait to get there.
Zaun says he was surprised as anyone when longtime Congressman Tom Latham announced late last year he will retire
Zaun was surprised even more when his wife told him to campaign, again. "She said, 'suck it up. It's 9 months. It's the same as what I've been through carrying our children.'"
Zaun admits his first congressional run for rough.
He ran and lost to Democratic Congressman Leonard Boswell before Latham then beat Boswell two years later.
Zaun says he will do better this time with no incumbent challenger.
"I'm smarter this time. I'm going to go into this with my eyes wide open. I've learned a lot of lessons. I'm going to be a lot more relaxed this time. I was certainly very intimidated last time. I'd be intimidated standing around with a bunch of mics and cameras in my face," Zaun said in front of several media outlets.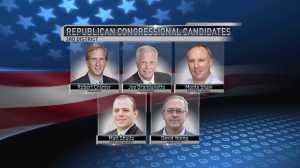 Zaun faces competition from five other Republicans who have already announced they, too, will run for the Republican nomination.
Two democrats have announced their intentions to run for the seat - former state lawmaker Staci Appel and Des Moines-native Gabriel De La Cerda.