This is an archived article and the information in the article may be outdated. Please look at the time stamp on the story to see when it was last updated.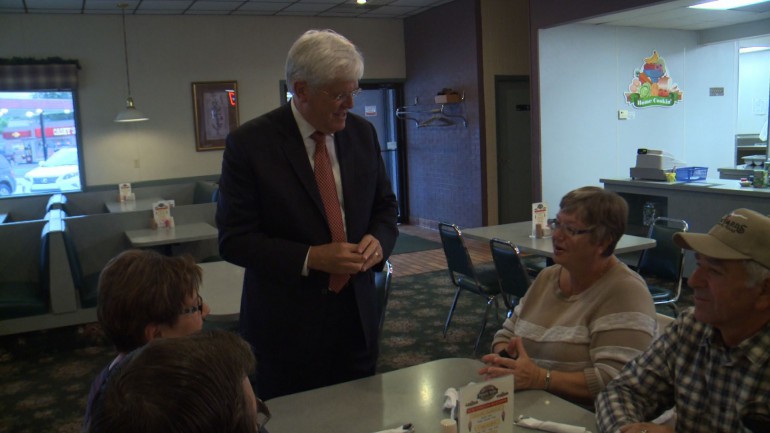 POCAHONTAS, Iowa — Democratic State Senator Jack Hatch is running for governor,  but maybe a better word would be "driving."  He is seeing a lot of the state of Iowa these days from his car.
His latest campaign  stretch has taken him from Council Bluffs, and Sioux City, to an overnight in Pocahontas.  After a meet and greet there, it was over to Clarion to meet with a newspaper editor, then to UNI in Cedar Falls, before wrapping the day up with a campaign stop south of Iowa City.
Early Thursday morning he was at the Family Table Restaurant where a small group of supporters were there to chat.  Hatch told the group he is encouraged, despite being behind in the polls "We are the highest we've ever been in early voting, so are the Republicans, but we have a higher percentage than they do," said Hatch.  Sharing some of the Democratic game plan, Hatch said," we're going after those Democrats that have voted in presidential elections, but not in the off year."
Hatch said in an interview he plans to continue his message of working where he says Governor Branstad has not come through.  "Up here in Pocahontas they see their roads still crumbling, and the bridges need repaired, the schools aren't getting the funding they were promised," said Hatch. "Rural schools are the ones most at risk,"due to a lack of funding, which has been one of the hallmarks of the Governor's tenure," said Hatch.
Hatch said he also wants to get more Iowans involved in making decisions regarding economic development in Iowa. " Get more people involved from the community up, rather than making centralized decisions from Des Moines," said Hatch. Hatch said he wants to work to make government more transparent, and he plans to have a cabinet made up of 50% women.
First Lady Michelle Obama will be in Des Moines Friday to campaign for  Congressman Bruce Braley, who is running for U.S. Senate. "We're very happy to have the first lady in Iowa helping Democrats," said Hatch. His schedule will not allow him to be there when she visits.
Hatch said he will be on hand when Maryland Governor Martin O'Malley visits Iowa again.  He said Governor O'Malley will be here on Sunday.