This is an archived article and the information in the article may be outdated. Please look at the time stamp on the story to see when it was last updated.
DES MOINES, Iowa – Iowa Governor Kim Reynolds ended months of speculation Thursday by naming a replacement for her old position. Although, it's complicated.
As Channel 13 first reported Wednesday night, Reynolds selected State Public Defender Adam Gregg, of Johnston, to join her administration.
"I saw a leader, someone who would articulate his positions and his vision," Reynolds said of her choice, "someone with fresh visions and someone that connected with Iowans."
Gregg will serve as "acting lt. governor", rather than "lt. governor" as Reynolds did. That could avoid a costly legal battle since there is constitutional questions about whether Reynolds--who wasn't elected governor but became governor when Governor Terry Branstad left to become U.S. Ambassador to China--had the legal authority to name her replacement.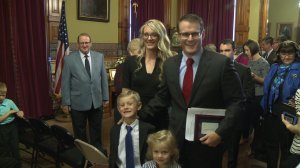 (Adam Gregg leaves news conference with his family Thursday morning.)
As acting lt. governor, Gregg can still perform most of the duties of lt. governor, work out of the office and collect the salary. But he can't fulfill one of the most important duties: ascending to governor if Reynolds were to leave the position for some reason.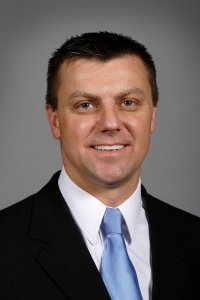 (Senate President Jack Whitver.)
The next in the line of succession would replace Reynolds instead. That is Senate President Jack Whitver, a Republican from Ankeny.
Gregg is a Drake Law School graduate and previously served as former Governor Branstad's legislative liaison and policy advisor. In 2014 he was also the Republican nominee for Iowa Attorney General. He lost to longtime Democratic Attorney General Tom Miller. Branstad later appointed him State Public Defender.
At the news conference Thursday announcing his new job, Gregg said several times how humbled he was to have the position and said, in the end, he doesn't care whether people call him "acting lt. governor" or just "lt. governor." "You can call this whatever you want," Gregg said, "it's not going to change the way I serve."
Attorney General Tom Miller appeared satisfied with Reynolds' decision to appoint Gregg as acting lt. governor because it answered the succession question. "That is the fundamental question. That is the constitutional question and she has complied with our opinion in that regard," Miller said and added, "The constitution has prevailed, as it should."