This is an archived article and the information in the article may be outdated. Please look at the time stamp on the story to see when it was last updated.
State Senator Kent Sorenson has resigned after a Senate ethics investigation found "probable cause" in a complaint against the Republican.
Senate Republican Leader Bill Dix had called for Sorenson to resign after the findings from the investigation were released.
"Today, I called for Senator Sorenson's resignation, and he agreed to do so effective immediately," Senator Dix said.
The special investigation into Sen. Sorenson found he not only violated Senate rules, but also likely broke the law.
The investigation stems from Sorenson's work both Michelle Bachmann's and Ron Paul's presidential campaigns in 2011 and 2012.
Sorenson is accused of violating Senate rules by accepting money from the Bachmann campaign to serve as its Iowa chair and then again getting money to switch to the Ron Paul campaign within days of the 2012 Iowa caucuses.
Michelle Bachmann was the first to make the allegation.
"I had a conversation with Kent Sorenson and in the direct conversation he told me he was offered money - a lot of money - by the Ron Paul campaign," Bachmann said in December 2011.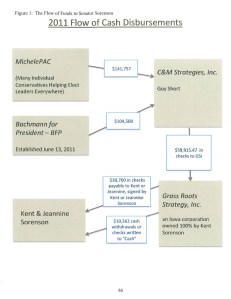 Rules violated
The allegation by Bachmann was upheld.
The final report released Wednesday found more than $41,000 was funneled to Sorenson from two different Michelle Bachman political action committees.
They first sent the money to a consulting firm called C&M Strategies who then sent money to Grass Roots Strategy - an Iowa corporation owned by Kent Sorenson.
That money trail led the report to conclude, "It is manifestly clear that in early 2011, Senator Sorenson negotiated for and obtained compensation that ultimately reached $7,500 per month from Bachmann campaign entities."
The investigation also says Senator Sorenson committed felonious misconduct in office when he lied to investigators and denied accepting any money from the Bachmann campaign.
However, the investigation into another complaint that Sorenson had stolen a database containing contact information for home-school students and their families wasn't proved.
"We have found no evidence, however, that Senator Sorenson personally removed the list of names.  Thus the undersigned finds that there is not probable cause," the report concluded.
Another report on Sorenson's dealings with the Ron Paul presidential campaign is pending.
The initial report found Sorenson was paid $25,000 from Paul's campaign and that he also received another $73,000 that was considered suspicious.
You can read the two volumes of the investigation by clicking here and here.
Investigation a "sham"
In a letter to his constituents confirming his resignation, Sen. Sorenson said he had a "big target on my back."
Sorenson maintains his innocence saying, "I did not do anything illegal. I never did anything that was against the Iowa Senate Ethics Rules as they are written. More importantly to me and my family, however, I did not do anything I believe was immoral."
He also called the investigation a "sham" and a "straight-up political witch hunt."
To read the entire letter, click here.
Sorenson was elected to the Senate in 2011 and had previously served in the House from 2009.