This is an archived article and the information in the article may be outdated. Please look at the time stamp on the story to see when it was last updated.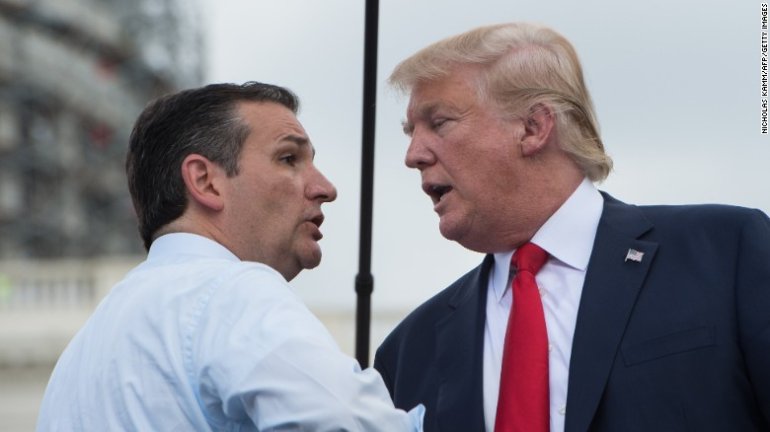 WASHINGTON — Donald Trump met Thursday with former GOP presidential rival Sen. Ted Cruz and Republican National Committee Chairman Reince Priebus in Washington, a source told CNN.
The meeting is the first time Cruz and Trump have met in person since the Texas senator dropped out of the presidential race after losing the Indiana primary more than two months ago.
The source could not say what the men discussed as they conferred at the National Republican Senatorial Committee headquarters where Trump also met with several dozen Republican senators on Thursday.
The Texas senator has so far refused to endorse Trump, but has not ruled it out.
While Cruz resisted criticizing Trump in the initial months of the GOP primary campaign, Cruz would eventually become one of Trump's fiercest rivals — and the last remaining legitimate challenge to Trump's campaign to win the Republican presidential nomination.
And the final weeks of Cruz's campaign were dominated by Trump's personal attacks against the Texas senator and his family as the fight between the two men grew increasingly bitter and personal.
In late March, Trump threatened to "spill the beans" on Cruz's wife after an anti-Trump super PAC unaffiliated with Cruz's campaign pushed out a series of digital ads aimed at portraying Trump's wife in a negative light.
And Trump would later also retweet an unflattering picture of the Texans' wife alongside a glamorous shot of his own wife with the caption "the images are worth a thousand words."
And as Indiana's Republican voters headed to the polls, Trump again turned to the personal, accusing Cruz's father of being involved in the assassination of President John F. Kennedy.
Cruz also turned to mudslinging in his campaign against Trump, criticizing the New York billionaire in the final days of the Indiana campaign of being as a "serial philanderer," "pathological liar" and "narcissist."
And he opened one of the first fronts in his battle with Trump by hitting Trump as an out-of-touch candidate with "New York values."
Returning to the Senate in May after dropping out of the presidential race, Cruz would not express his support for Trump as the GOP nominee — but did not rule it out.
"There are two and a half months until the Republican convention, six months until the general election," Cruz told reporters in May after returning to Washington. "There will be plenty of time for voters to make the determination who they're going to support."