This is an archived article and the information in the article may be outdated. Please look at the time stamp on the story to see when it was last updated.
DES MOINES, Iowa — Iowans, behold the power of your handshake. Who knew your grip has so much strength and global reach.
The Greater Des Moines Partnership has a new plan called Global DSM.
The hope is to expand the metro's connections and business through a series of efforts. After the presentation of this plan Monday, one of the assembled experts told Channel 13's Dave Price that Iowans have a natural advantage in international dealings.
Kavilash Chawla is a partner at Baton Global and visiting scholar at Drake University, and he says it's because of the authenticity of our handshake agreements. He compared Des Moines' "handshake culture" to that in places like the Middle East and Asia.
"One of the unique qualities that I think Des Moines offers — relative to New York, Chicago, LA — is the fact that relationships matter," Chawla said. "The ability to shake somebody's hand, to know that the contract that you've agreed upon … matters."
Chawla said in places like New York, there's less of that cultural affinity.
"That enables businesses here to compete," he said.
Another expert stressed that real job growth is now in the small and mid-sized businesses, not in the mega companies.
Brad McDearman is a nonresident senior fellow at Brookings Institution. He said some companies around the country are starting to let its employees know how much their paycheck is related to global sales because most people don't understand that a lot of their sales come from around the globe.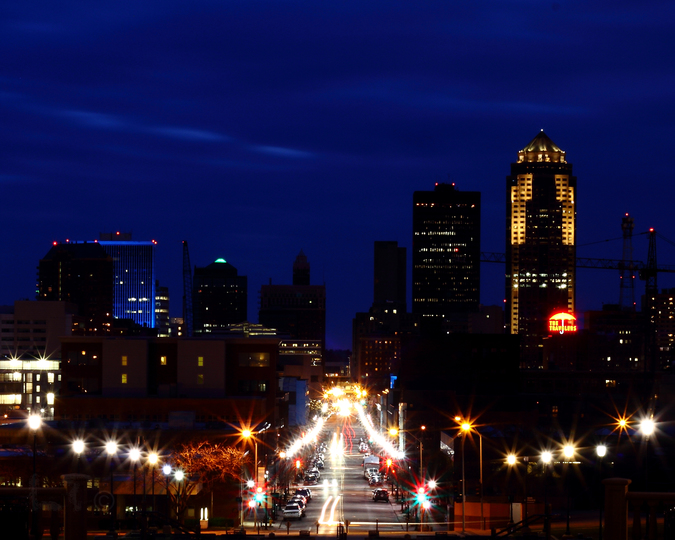 "Even on the investment side, a lot of these companies are foreign-owned. Frankly, a very large percent of small to mid-sized firms are very open to being bought by a company and often there's an increasing number in foreign buyers.
Thinking globally is important for some businesses, but for those of us who aren't the bosses at work, how are we supposed to think bigger?
"Making sure you are globally aware on your own. And that's what part of this plan is about. It is not just getting our economic development folks and leaders aware, but getting your general population to get that Des Moines — you know a smaller city than a Chicago, New York or LA — is also a global city.
McDearman says everyone can't go crazy on global thinking, though, as global isn't the way to go for everyone.
Up next…
One issue that is always impacting the business world is the pay of its workers. On Part 3, a Polk County supervisor explains the effort to increase the minimum wage, thus more than doubling the pay for thousands in his county.
About the Insiders
The Insiders with Dave Price features in-depth conversations with top politicians, decision makers and influencers from Iowa and across the country. It's Iowa's Sunday morning tradition that provides unique insight into what's happening, and it's the show that holds elected officials accountable.
Catch the Insiders Sunday at 9:30 a.m. on Channel 13.