This is an archived article and the information in the article may be outdated. Please look at the time stamp on the story to see when it was last updated.
A Republican Senate candidate says the party's decision to delay next year's state convention by a month is troubling.
Sam Clovis is one of five campaigning for the 2014 Senate seat being vacated by Sen. Harkin (D) to sign a letter urging the party to move the convention back to its June 14th date.
"It's insider baseball stuff, the Republican party of Iowa thought it was the right move for them and we'll have to wait and see how this plays out," Clovis told The Insiders Extra.
The move gives delegates at the state convention an option to select the party's nominee if a candidate doesn't get the required 35-percent to win.
Among those against it is Gov. Branstad.
Critics say the decision gives the sole Democrat nominee, Rep. Braley, an extra 30 days of campaigning.
Clovis, a conservative talk show host, says they "shouldn't worry as much as some people are," before ominously adding, "I don't think we've heard the last of it."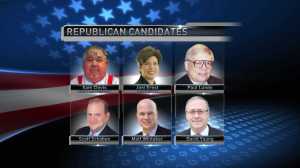 As for differentiating between a packed Republican field, Clovis says the public will help.
"The good news is we all get along well bit I also think we're starting to see when people ask the candidates questions where you have to show your depth and breadth on the issues, you have to have solutions rather than just the bromides we typically throw out ," Clovis said.
"This is where I think you're going to see some separation among the candidates."
To read the letter signed by the five candidates, click here.
Watch the full interview with Sam Clovis on The Insiders Sunday at 9:30 a.m.