This is an archived article and the information in the article may be outdated. Please look at the time stamp on the story to see when it was last updated.
DES MOINES, Iowa -- So far in the 2016 political year, we've seen protests, punches, threats and even demands for resignation.
Two political insiders, Polk County Democratic Chairman Tom Henderson and former Republican nominee for governor Doug Gross, talk about the convention chaos.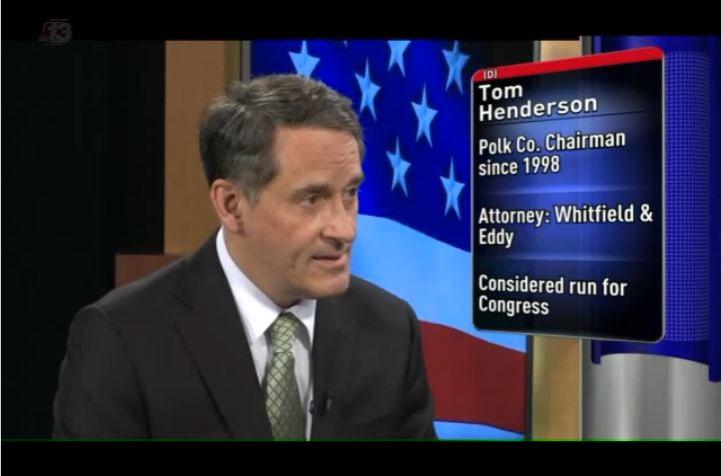 And chaotic it was at the Polk County Democratic Convention last weekend. Henderson was in the middle of the mayhem. Now, some are even saying he should call it quits after being the Polk County Chairman for nearly 20 years.
Pat Rynard, with the Iowa Starting Line, wrote that it's time for new leadership and is calling for Henderson's resignation:
"Tom Henderson should do the right thing as well and resign as the chair of the Polk County Democrats. Many people like Henderson personally, he's well-respected in the local press and Democrats are extremely grateful for the many years he's devoted to the county party. But it's time to move on"
Henderson said he believes the write-up has something to do with what happened on the night of the convention. He said Rynard tried to enter the work room where Henderson and other Dems were counting votes.
"I think he got mad," Henderson said.
He also noted that he's been twice elected by the Iowa Democrats as the most outstanding chair.
While there was not as much drama at the convention for Republicans, it seemingly plays out on the presidential level.
Extra heated behavior plays out at Donald Trump rallies across the country. So what exactly is happening there?
"We have candidates who, I would argue, are inciting behavior like this by the words they use because words have impact -- particularly leading candidates when they have words that have potentially violent implications and people follow that," Gross said.
Simply put, Gross said he does not want Trump to be the Republican nominee.
Watch the entire segment above to hear what else Gross says about Trump and the possibility of him being the Republican's choice for president.
For Part 2 of the Insiders, click here.