This is an archived article and the information in the article may be outdated. Please look at the time stamp on the story to see when it was last updated.
PERRY, Iowa – Investigators have revealed a Perry teen found dead in her home last week weighed only 56 pounds at the time of her death.
The adoptive parents of 16-year-old Sabrina Ray were arrested Thursday and charged in connection with her death.
Forty-one-year-old Marc Ray and 40-year-old Misty Ray are each charged with four counts of child endangerment resulting in serious injuries, three counts of neglect or abandonment of a dependent person, and one count of child endangerment resulting in death.
In a Thursday afternoon news conference, Perry Police Chief Eric Vaughn said four of those counts are related to Sabrina Ray's death and the other four are related to two other adopted children in the home, females aged 12 and 10.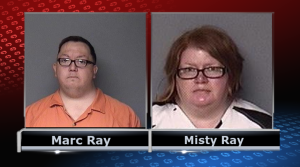 Police say someone called 911 May 12 about an unresponsive female at 1708 First Avenue. When officials arrived they found Sabrina Ray deceased. Marc and Misty Ray were not home at the time of her death.
An autopsy conducted by the State Medical Examiner's Office found Sabrina weighed 56 pounds at the time of her death and noted "severe malnourishment." Other tests related to the autopsy will not be available for another few weeks.
Police say the Rays' three remaining adoptive children, two girls and a boy, were removed from the home and are now in the care of the Department of Human Services.
The Rays operated an in-home daycare and had also served as foster parents in the past. Investigators are now looking into whether any of the children from the daycare or foster children suffered any neglect or abuse.
When asked about similarities to the death of 16-year-old Natalie Finn from West Des Moines, investigators were unable to comment on the case.
Marc and Misty Ray are being held in the Dallas County Jail and were seen by a magistrate Thursday afternoon. Their bonds have tentatively been set at $1 million each, cash only.