This is an archived article and the information in the article may be outdated. Please look at the time stamp on the story to see when it was last updated.
DES MOINES, Iowa – A Des Moines man has been arrested and charged in the stabbing death of his cousin.
Des Moines police arrested 30-year-old Sean Michael Foster Thursday morning after he was charged with first degree murder in the death of 50-year-old Albert Barron III.
Barron's body was discovered Wednesday when officers were sent to do a welfare check at the residence he shared with Foster at 2454 Indianola Avenue. Police say Barron's employer asked police to check on him after he hadn't shown up for work for a few days.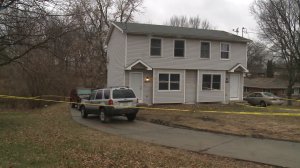 When officers arrived just after 4:00 p.m. they noticed some damage to an exterior door. After entering the home, they found a bloody crime scene. They also found Foster, who was asleep.
Foster was taken in for questioning and while officers investigated the scene they found Barron's body on the property.
"They both lived here together. That kind of puts a different layer to the story. You know Mr. Barron was stabbed so you know there's always a little more of a personal type of attack there or a personal rage when we see people stabbed," Sgt. Paul Parizek with the Des Moines Police Department.
Police say they believe Barron had been dead for several days.
Foster is being held in the Polk County Jail.