This is an archived article and the information in the article may be outdated. Please look at the time stamp on the story to see when it was last updated.
DES MOINES, Iowa — The Redfield lottery winner is not handing out her winnings despite what some social media users are claiming.
According to Wixted and Company, the group handling Lerynne West's media requests, several accounts on Facebook and Twitter have been reported after users have claimed to be West.
The Redfield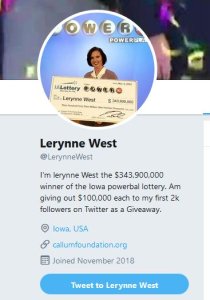 woman claimed her $344 million Powerball jackpot prize earlier this month. The fake accounts claim she is handing out thousands of dollars to her followers on social media.
Those helping to represent West say that is not true. Since winning the lottery, representatives say West has been forced to take down her personal social media accounts.
After winning the jackpot, West launched a foundation that will help others and organizations in need.