This is an archived article and the information in the article may be outdated. Please look at the time stamp on the story to see when it was last updated.
President Obama and President George H.W. Bush honored an Iowa couple at the White House Monday morning.
Floyd Hammer and Kathy Hamilton received the 5000th Daily Point of Light award for their work in feeding the hungry here at home and abroad.
It all started with some woven baskets and the word yes.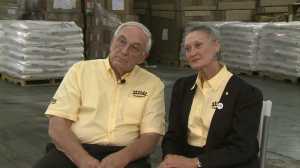 "I said no and Kathy said yes," says Floyd Hammer.  When a friend asked him and his wife, Kathy Hamilton to help build a hospital in Africa, Hammer was reluctant.  But where Kathy goes, Floyd goes.
"If you see one, you see the other," explains Hammer.
What they saw was heartbreaking.
"There was no food in a village of 8,000 - no food.  We can't imagine that, but it's real."
Hamilton will never forget the first child she saw dying from starvation.
"I said, 'This baby needs some food.  Somebody get this child some food,'" says Hamilton.  "Nobody did anything and the baby laid there and died."
Hamilton and Hammer had been cautioned not to give the locals any food.  So, rather than give them food, Hammer made them earn it.
"If you just give something neither the giver or the receiver get the full value," says Hammer.  "And these are proud people."
That's where the baskets come in.  Floyd and Kathy began bartering with the villagers, trading food for baskets.  It was the beginning of Outreach, Inc., a non-profit organization that's provided food, clean drinking water, medical care and an education to millions of children around the world.
"All it takes is two people to say, 'Let's do something.'"
They've been doing something for ten years now, and Hammer no longer says "no."
"There's so much that can be done.  You just have to say "yes."