This is an archived article and the information in the article may be outdated. Please look at the time stamp on the story to see when it was last updated.
CEDAR RAPIDS, Iowa – The Iowa couple behind a goodwill gesture that went viral said they did it to serve as an inspiration for others.
Makenzie Schultz and her husband, Steve, were celebrating their six year wedding anniversary over the weekend at a sushi restaurant in Cedar Rapids.
But the service "sucked."
Instead of taking to social media to complain, Makenzie posted a picture of the tip they left.
The image took the internet by storm gaining over a million likes and 147,000 shares.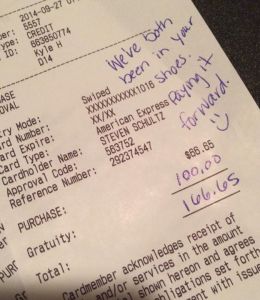 Despite waiting for 20 minutes to get water, 40 minutes for an appetizer and over an hour for their entrée, the couple gave a $100 tip on a $66.65 bill.
"People all around us were making fun of the restaurant and how bad the service was," the Facebook post explained.
That would usually mean pitiful tips for the server. However, the couple blamed the wait on staffing.
"That's when I told my husband, 'He's working so hard and you can tell he's so stressed out but he's not letting on to us.' When he came to the table he was very sweet and nice," Makenzie told Channel 13. "That is why it touched me. We have been in his shoes."
The couple met while working at a restaurant.
"We completely understood that feeling because he was doing his best but his best wasn't good enough," Makenzie said.
Makenzie added she hoped her small act would be taken positively.
"It wasn't about the amount of the tip but it's about being understanding and being kind," Makenzie said. "Sometimes we need to take a step back, look at the whole situation and understand it and not judge it so quickly."
The post has been shared around the world and Makenzie says she has received hundreds of emails sharing how their story has inspired others to pay it forward.
"It was something we could do to be a little positive."