This is an archived article and the information in the article may be outdated. Please look at the time stamp on the story to see when it was last updated.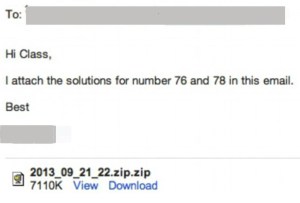 A University of Iowa teaching assistant has gained national notoriety after accidentally sending her class pictures of herself naked.
In an email to the Math class, the assistant wrote, "Hi Class, I attach the solutions for number 76 and 78," but when students opened the attachments they allegedly showed screenshots of a sexual nature with her boyfriend.
Some students in her class tweeted about the email.
Welp my math teacher just sent me a video of her and her boyfriend skyping naked instead of the answers to the homework due tomorrow..😐

— dru. (@LittleBabyDru) October 23, 2013
Class with the most famous TA in University of Iowa history starts in an hour and a half. Wish me luck! Should I ask for an autograph?

— Andrew Merschman (@merschman) October 23, 2013
The story has been picked up by the national press and was also reported by media outlets in the UK and France.
UI spokesperson, Tom Moore, said the incident was an accident before adding, "This incident was inappropriate, and the university will look into it and take appropriate actions under our policies and procedures."
The university has asked students to delete the files.