This is an archived article and the information in the article may be outdated. Please look at the time stamp on the story to see when it was last updated.
The identity of a body found dead in a car in Newton has been confirmed as that of a man missing from Colorado Springs, Colorado.
The Colorado Springs Police Department says 61-year-old Grant Frazier was found deceased in Newton. Frazier had last been seen February 16th and was last known to be with 21-year-old Bionca Rogers.
Officials are now seeking her as a person of interest in connection with the case. She is described as a black female, 5'06", 125 pounds with black hair and brown eyes.
Two warrants for her arrest were filed the day before Frazier was last seen. She is charged with carrying a concealed weapon and child abuse, both misdemeanors.
The Iowa Division of Criminal Investigation and the Newton Police Department are investigating the case.
Frazier was found in a car in the parking lot of The Courtyard apartment complex around 1:00 a.m. Tuesday. The complex is located at 1453 N. 11th Ave. East.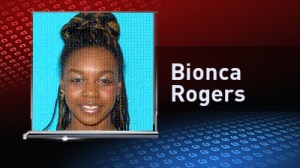 One witness tells us investigators were looking at the trunk of a car, and an ambulance was also on scene. She watched as the car was towed away.
The apartment manager says she saw the vehicle with Colorado license plates parked at the complex Monday, but that it didn't look suspicious.
Tenants of the complex told her they don't know who the vehicle belonged to either.
"The police officer I spoke with said they were investigating a stolen vehicle, that's all that we know at this point," says Michelle Wales, property manager.
A woman who lives at the apartment complex says the car, which she described as a white four-door sedan, had been in her parking spot since at least Thursday night.
Colorado Springs police say Frazier owned a white four-door Mitsubishi Gallant.
We'll bring you more on the investigation as information is made available.