This is an archived article and the information in the article may be outdated. Please look at the time stamp on the story to see when it was last updated.
FORT DODGE, Iowa -- If you're driving one of those big rigs, you don't like a lot of red lights or stop signs. Railroad crossings either. But if you're trying to get from one end of Fort Dodge to the other, you'll probably hit one. Or two. That may no longer be the case, thanks to the new Crosstown Industrial Park, otherwise known as the Decker Development Park.
"Virgin land," Don Decker described the freshly moved black dirt that sat atop the 163-acre development site Tuesday. Decker, who is best known for leading Decker Trucking Lines, whose 1,000 employee headquarters is right across from the new park.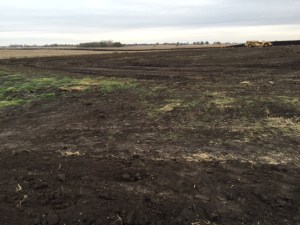 "They can build anything on it, really," he said of the project's future.
Decker sees more than a dozen businesses opening on the land, with the potential of 800 jobs. He wouldn't give specific names of the companies that have shown interest in the park, which had its official ground-breaking ceremony Tuesday morning, next to a heated tent that dignitaries appreciated on an abnormally chilly day. But Decker sees future tenants as companies connected to the transportation and agriculture industries. He said the Food and Drug Administration has also shown interest in opening an inspection facility.
"It's got a good transportation network," Decker added.
The key to the project will be a new route that will connect the eastern part of Fort Dodge, where this industrial park will be, with the western side. That route means a direct path that will eventually connect Highway 169 and Highway 20.
Governor Terry Branstad, who grabbed a shovel for the ceremonial dirt-digging, said, "This is really going to open up the east side and give a statement to the world that Fort Dodge is open for business."