This is an archived article and the information in the article may be outdated. Please look at the time stamp on the story to see when it was last updated.
STORY UPDATE: Police have decided to hold a news conference Wednesday afternoon to discuss the execution of the search warrant – look for updates from the news conference here.
New details are emerging in the story first aired on Channel 13 which has since gathered national attention.
According to a search warrant, Ankeny police were looking for about a $1,000 worth of items purchased with a stolen credit card when they raided a Des Moines home. A Galaxy S3 cell phone, a 46 inch Hisense TV and a Redbox movie were among the numerous items being searched for.
Home surveillance shows about a dozen police officers storming the Des Moines house to execute the warrant.
Ankeny police said they knocked before busting down the door but the video shows only a few seconds pass between the time when an officer pounds on the house and a battering ram is used.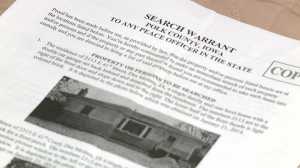 The video also shows an officer ripping a security camera down from the front of the house after officers are inside.  Another officer covers a camera inside the home.
Tuesday, Ankeny police captain Makai Echer says they look at several factors when deciding whether to enter a home this way or by simply knocking.
One factor is the criminal records of those involved.
Monday, we reported one of the four people listed, Richard Forestier Adair, had no real criminal record.  But the name on the warrant is apparently wrong. Adair's middle name is Foster and he does have a long criminal record but very few violent arrests. Adair has two assault convictions about 14-years ago and a domestic assault conviction in 2002.
A police spokeswoman also said officers believed there was a gun in the home.  The man who lives there, who does not have a criminal record, does have a weapons permit.
Police did not appear to have found any of the items listed in the warrant and two people were arrested on unrelated charges.
Ankeny police would not address why the officer ripped the security camera from the wall.
Despite the raid occurring in Des Moines, Ankeny police say they're investigating the credit card fraud case because the alleged theft occurred in Ankeny.