This is an archived article and the information in the article may be outdated. Please look at the time stamp on the story to see when it was last updated.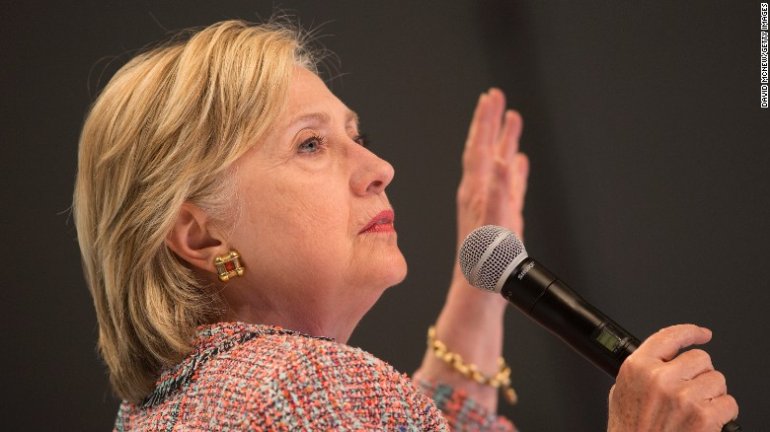 Hillary Clinton traveled to three states, held four campaign rallies, and didn't return home to New York until well after 3 a.m. on her last day as a presidential candidate before Election Day.
I've spent months covering Clinton's bid for the White House. Here's what I saw and experienced in those 19 hours.
9:10 a.m.: We're at Westchester County Airport, Hillary Clinton's home base airport during the campaign. Journalists gather in the hangar to go through the familiar morning drill one last time: We line up our bags on the ground so Secret Service can do a sweep, and get in line for security.
One Clinton advance staffer delivers his "ultimate bag speech": Instructions on where to put our luggage. There's one group for bags that will come off the plane at each stop, and another for bags that will only be retrieved "when we land in the wee hours of the night tonight."
10:05 a.m.: The motorcade arrives, and Clinton steps out holding her phone in front of her. She's FaceTiming with her granddaughter, Charlotte. "Do you see the big plane?" Clinton says.
One reporter asks Clinton: Does America understand you and is it ready to accept you?
"I have some work to do to bring the country together as I have been saying in speeches in the last few days," Clinton says. "I really do want to be the president for everybody — people who vote for me, people who vote against me."
10:28 a.m.: We are wheels up from Westchester.
11:25 a.m.: Wheels down in Pittsburgh. Before we get off the plane, a Clinton staffer offers a "friendly reminder that this event is outdoors." Fortunately, it's 63 degrees and sunny.
12:19 p.m.: Motorcade arrives at the University of Pittsburgh.
12:23 p.m.: Special guest introducing Clinton here is celebrity chef Tom Colicchio. He says his young children, watching this campaign unfold, have asked him questions like: "Sexual harassment? What does that even mean?"
12:30 p.m.: Clinton takes the stage. She urges voters in states that don't have early voting to come out on Tuesday — no matter what. "If the lines are long tomorrow," she says, "please wait."
1:25 p.m.: On the bus ride back to the airport, my colleague Brianna Keilar and I do a Facebook Live from the bus. Among other things, we talk about how crazy it is that today is the last day.
2:00 p.m.: There are so many journalists traveling with Clinton that some of us have to switch off between the main plane and a smaller plane. I'm on the small plane for this leg — we're wheels up first.
2:14 p.m.: Clinton plane is wheels up from Pittsburgh.
2:52 p.m.: Small plane is wheels down in Grand Rapids, Michigan.
3:03 p.m.: Clinton plane is wheels down.
4 p.m.: We arrive at a get-out-the-vote rally in Allendale, Michigan, outside of Grand Rapids. Sen. Debbie Stabenow is working the crowd by going after Trump: "The only change Donald Trump cares about is the change in his own pocket."
4:11 p.m.: Clinton takes the stage to Journey's "Don't Stop Believin'." Michigan is a blue state the campaign is determined to keep in her column. Looking to win over voters who may be on the fence, Clinton shows off endorsements she's received from Republicans.
"They believe that we must put country ahead of party," she says.
5:10 p.m.: Motorcade is rolling back to the Grand Rapids airport. There are plenty of supporters outside waving, but not everyone's a fan. One man held up a sign that read: "LIAR LIAR PANT SUIT ON FIRE."
5:52 p.m.: We're on the plane. Snacks: Cocktail shrimp and fried ravioli.
6:03 p.m.: Wheels up from Grand Rapids.
Mid-flight, we are told by a Clinton aide that when Clinton lands in White Plains after 3 a.m. tonight, she will be greeted by local supporters and campaign staffers. She might give remarks, the aide said.
7:27 p.m.: We are wheels down in Philadelphia. A Clinton aide says we should expect the biggest rally of the campaign. President Barack Obama, First Lady Michelle Obama and Bill Clinton will be at this event on Independence Mall.
7:38 p.m.: Before we deplane, a flight attendant (who will not be with us after this flight) says over the intercom: "Good luck, Secretary Clinton. We will definitely miss everybody."
8:02 p.m.: As we approach Independence Mall, there are crowds waving at the motorcade.
8:09 p.m.: I climb onto scaffolding, higher than the risers, to take this photo of the thousands of people gathered in front of Independence Hall.
8:23 p.m.: Bruce Springsteen is performing. He says: "Hillary sees an America where the issue of income distribution should be at the forefront of the national conversation. "
8:36 pm: Bill Clinton and Chelsea Clinton take the stage. Bill Clinton says, "This country began here. Right here." He then introduces Michelle Obama as "the person I think has proved to be the finest surrogate, supporter any candidate for president ever had."
8:42 p.m.: Michelle Obama's speech is nostalgic. "I am also emotional because in many ways, speaking here tonight is perhaps the last and most important thing that I can do as the country's first lady."
Obama then introduces her husband as "the love of my life, the president of the United States."
8:53 p.m.: President Obama tells voters that tomorrow, "the choice you face when you step into that voting booth could not be more clear or could not be more serious."
9:00 p.m.: In the middle of Obama's speech, a bell begins to ring out — nine times to mark the new hour.
9:09 p.m.: Obama thanks the country for giving a "skinny guy with a funny name" a chance eight years ago.
He introduces Clinton as a fighter, a stateswoman, a mother, a grandmother, a patriot, and "our next president of the United States of America."
9:11 p.m.: Clinton thanks the Obamas for serving the country for eight years with "grace, strength, brilliance and a whole lot of cool."
"I'm pretty sure as they said tonight, that the best way to thank them is to do something really important tomorrow — to vote," Clinton says. "As the President just pointed out, there is a clear choice in this election. A choice between division or unity."
10:06 p.m.: We are back at Philadelphia airport. I'm back on the small plane.
10:15 p.m.: On the main plane, Bill Clinton and Hillary Clinton come back briefly to the press cabin.
The former president, asked how meaningful the evening was, says: "To finish there tonight, I felt was important because that is where the country began."
11:22 p.m.: Small plane is wheels down in Raleigh, North Carolina, for the final Clinton rally of the campaign.
11:32 p.m.: Clinton plane is wheels down. My colleague Dan Merica points out that Chelsea Clinton and her husband, Marc Mezvinsky, were also on the plane and sitting in the front cabin.
And CNN's Jeff Zeleny captured this photo of the Clinton family getting off the plane.
12:00 a.m. Tuesday: We are on the press bus headed to Clinton's last rally in Raleigh. At midnight, reporters on the bus call out: "It's midnight," and "It's Election Day!"
My colleague Phil Mattingly is already at the rally, watching Lady Gaga perform.
12:17 a.m.: When we walk in, Lady Gaga is still going, rocking out to "Bad Romance." Later, Lady Gaga says: "Let's not elect somebody that doesn't care for the people."
Soon, Jon Bon Jovi joins Lady Gaga. They perform "Livin' On a Prayer."
"Don't forget to vote! We love you!" Lady Gaga says.
12:42 a.m.: The crowd begins to chant, "Hillary! Hillary!"
12:52 a.m.: Clinton takes the stage with Bill and Chelsea. "I gotta tell you, this is sure worth staying up for," she says. With Bon Jovi behind her, Clinton jokes: "Between now and the time the poll closes tomorrow, we are going to be livin' on a prayer!"
When Clinton says "Tomorrow night, this election will end," some people in the audience correct her: "Today!"
Watching his wife, Bill Clinton more than once clasps his hands together in front of his face, as though he were in awe.
A grandmother to Chelsea's two young kids, Clinton concludes her final campaign speech by describing what is at stake on Election Day for parents and grandparents.
"When your kids or grandkids ask what you did in 2016," she says, "you'll be able to say you voted for a stronger, fairer, better America. An America where we build bridges, not walls. Where we prove, conclusively, that yes: Love trumps hate."
With those words, Clinton finishes her second presidential campaign.
2:10 a.m.: We are wheels up from Raleigh.
2:56 a.m.: Our long day is almost over, and there is champagne and pizza on our final flight back to White Plains. Some of my fellow reporters are eager get a little shuteye. Liz Goodwin, a Yahoo reporter sitting next to me, asks for a favor before closing her eyes: "If something happens — like Jon Bon Jovi comes back — will you wake me up?"
I agree.
Literally a minute later, I was shaking Liz. "You told me to wake you up only if Bon Jovi came back!"
The artist had walked back to the press cabin to say hello. He was friendly, chatting with the press and wishing us a lot of rest once this was over.
When my colleague Dan Merica asked whether he had voted yet, Bon Jovi responded: "The great state of New Jersey is awaiting my arrival!"
3:22 a.m.: We are wheels down in White Plains. Through the plane windows, we can see bright lights and people outside.
3:34 a.m.: Dozens of Clinton supporters and campaign volunteers have gathered outside for her homecoming. "Welcome home," they chant.
3:36 a.m.: Clinton staffers exit the plane first, to cheers from the crowd.
3:40 a.m.: Clinton, along with her husband, exit the campaign plane one last time to "Fight Song." The Clintons separately work the rope line for a few minutes, as the song continues to blast.
Dan Merica, who is on pool duty, took this photo up close of Clinton greeting her fans.
3:45 a.m.: The Clintons step into an SUV and the motorcade departs for Chappaqua.
Clarification: This story has been updated to reflect the bell that rang at 9 p.m.