This is an archived article and the information in the article may be outdated. Please look at the time stamp on the story to see when it was last updated.
DES MOINES, Iowa – Music can provide comfort to patients at a time they may need it most. It's one of a few therapies that can help people when they enter end of life care, and five sisters started an event to help provide the service.
For 30 minutes, Eugene Miller gets to relax. He said, "She sings the nicest songs and almost puts me to sleep."
Jenny Denk with Unity Point Hospice doesn't just sing. She's a board-certified music therapist with a university degree. She said, "It's a 4 year program that includes classes in music history, music theory, ensembles and lessons as well as biology, psychology, psychobiology."
She visits about 30 patients a week with the goal of improving their quality of life. The patients pick their preferred songs, and she watches them while she sings, allowing for interaction a cd can't provide. She said, "The benefit to having the live music is that I can alter the speed of the music. I can alter the style of the music. I can alter the lyrics in the music to address the patients' needs."
A massage therapist also visits Miller once a week and therapy dogs are available for patients receiving care through UnityPoint Hospice. Denk said, "When people think of hospice, they think of sadness and end of life and really scary things. But for me, hospice is about celebrating and honoring the life of the patient and providing the dignity that they deserve."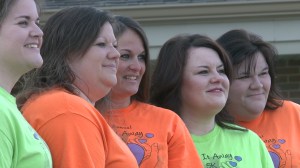 Comfort therapies aren't covered by insurance, so they rely on private pay and donations. An event coming up will help support the program. Rebecca Campbell and her four sisters started the Give It Away 5k in memory of their mom Lorrie Shetterly. Campbell said, "We wanted to create a family event where families could come out, make memories together and have fun and raise funds for a really good cause."
Shetterly died of a rare neurological condition after spending a few days in hospice care at Taylor House. The annual event has raised about $8,000 in its two years. Campbell said, "She was just a very warm and loving and caring person. We just wanted to try to pass some of that on through this event."
It's something Miller appreciates. He said, "I tell you, I didn't know it was available until it was, and I wouldn't do it without it now if I had to."
The Give It Away 5k is Saturday, May 2nd in Water Works Park. Check in starts at 8:15 a.m., the walk is at 9 a.m., followed by a memorial walk at 10 a.m. You can sign-up www.giveitaway5k.com. You can also make a donation, if you aren't able to run.