This is an archived article and the information in the article may be outdated. Please look at the time stamp on the story to see when it was last updated.
DES MOINES, Iowa — A West Des Moines man is in the Polk County Jail following a motorcycle chase in Des Moines early Wednesday morning.
Des Moines police say 29-year-old Jordan Young was riding a stolen motorcycle when he led officers on a high-speed chase. It ended around 2:00 a.m. at Northeast 51st and Hull. Young tried to take the bike off-road near a wooded area but that's when officers say the motorcycle stalled.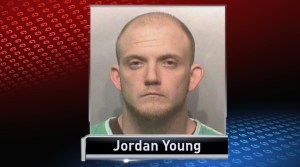 Young wasn't injured in the chase but two officers suffered minor injuries when their squad car went into a ditch.
Young faces charges including 2nd degree theft, eluding, and OWI.