This is an archived article and the information in the article may be outdated. Please look at the time stamp on the story to see when it was last updated.
NEVADA, Iowa — The defense will formally rest its case Friday after a day of testimony from family and an expert psychiatrist Thursday in the first-degree murder trial of Alexander Kozak.
Kozak is accused of shooting and killing Andrea Farrington at Coralville's Coral Ridge Mall last June. If he is found not guilty of first-degree murder, but guilty of a lesser charge, the jury's decision will likely be based on the defense's testimony Thursday.
Those closest to Kozak testified, saying they began to notice a change in his personality. He became more frustrated and quick-tempered.
Kozak's mother, Cyndy McComas, said she wasn't surprised when she heard about the shooting. She said her first thought was that her 23-year-old son was defending someone because he often became highly protective.
"That's Alex. That's what he does. He protects the underdog. He helps the person in need," McComas said.
Alexander Kozak's mom on the stand: He helps the underdog, he helps people in need #kozaktrial

— Jannay Towne (@JannayTowne) April 21, 2016
McComas told the jury Wednesday that her son would get "angry quickly over simple things."
Kozak's sister testified Thursday, also commenting on her brother's quick temper but also that he was always looking out for others.
"I figured it was just teenage male anger. I didn't think anything of it. I thought it was a little extreme, but I didn't think anything of it," his sister Jenay Winn said.
His family said Kozak was never violent until the shooting, and they were never concerned enough to get him any mental health treatment. They said he started to show signs of increasing frustration, anger and withdrawal. His mother and sister mentioned that he got married without telling them.
Kozak's wife, Kellie, was the last witness to take the stand in her husband's defense Thursday.
"One day he would be super just happy, doing just cute little things. One day he would really not pay any attention to me," she said.
Alex and Kellie had been married for a little longer than a year, and his rage was evident in the relationship.
"His favorite thing to say was, 'There's a hole in your story.' Even when there was no reason, there should have been one. It would usually end up with him yelling at me, me getting super upset. Usually crying," she said. "I was more worried that he would break something or hurt himself than me."
The defense claims Kozak was suffering from more than just an anger issue.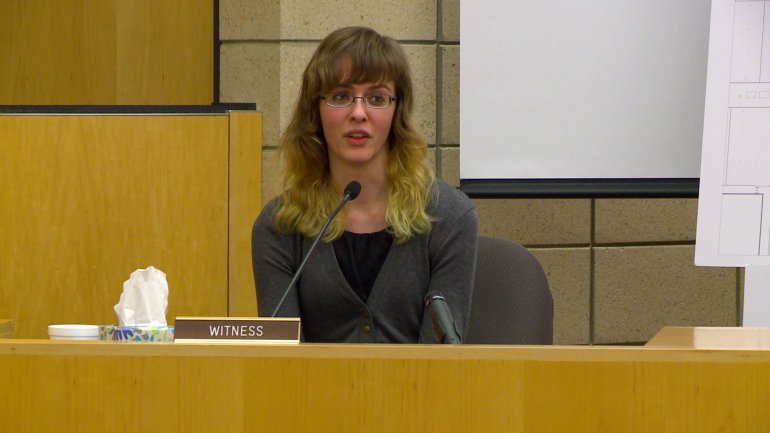 Kozak's Defense
Kozak's defense is trying to show that he snapped when he gunned down Farrington. The defense says Kozak was mentally ill and should not be punished for first-degree murder. His anger allegedly didn't have to do with Farrington, but rather a work-related issue.
The defense brought in a Kansas City-based psychiatrist to testify Thursday.
Dr. William Logan diagnosed Kozak with intermittent explosive disorder and borderline personality disorder. Combined, Logan said it could send Kozak into a rage where couldn't think or control his emotions.
"They're very susceptible to imagine slights in relationships. They don't handle relationship break ups very well.  They tend to become very paranoid about somebody to suspect their motives.  Intense anger," Logan said.
Investigators say Kozak showed no emotion or remorse after confessing to shooting the woman he thought he loved. The state maintains he murdered Farrington after she called off their relationship.
The defense will formally rest its case Friday.
The state plans to call rebuttal witnesses.  Their experts will talk about Kozak's state of mind the day he killed Farrington.
Related: Kozak's Mother Not Surprised Her Son Fatally Shot Woman
Related: Shooter Called Relationship With Victim a 'Sick and Twisted Thing'
Related: Farrington Reported Kozak Made Her 'Uncomfortable' at Work Before Shooting
Related: Nearly 20 Witnesses Testify in Mall Shooting, Many in Tears Describing Chaos
Related: Emotional Witness Testimony: 'He's killing us. Run, run, run!'