This is an archived article and the information in the article may be outdated. Please look at the time stamp on the story to see when it was last updated.
The search for missing Dayton teen, Kathlynn Shepard is bringing back painful memories for one set of parents in eastern Iowa.
Erin Pospisil was also 15-years old when she disappeared in 2001 in Cedar Rapids. She went to a friend's house to watch movies, but the friend wasn't home.
Erin hasn't been seen since.
Her family and friends were going to release balloons or lanterns to remember Erin, Saturday. Because of the rainy weather, they'll take them home and release them at a later time.
Despite more than a decade passing, the family still holds out hope their daughter will be found.
"We still hope that she's out there somewhere," says dad, Jim.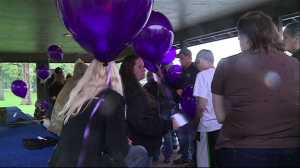 Mom, Carolyn won't give up until she is found, "We still want to know what happened but at the same time we still have hope that we'll find her. When you have stories like what happened in Ohio where three girls are found 10 years, 9 years later, and so it does bring back some hope that we'll bring her home as well."
Saturday is National Missing Children's Day. It is held each year on May 25th and has been observed each year since 1983.