This is an archived article and the information in the article may be outdated. Please look at the time stamp on the story to see when it was last updated.
Hello everyone.
Thank you for all of the encouraging posts, emails, facebook messages and cards. The last few months are a blur. So much has happened and it's been such a roller coaster of emotions that I feel almost numb a lot of the time.
I'm posting now to let you know that my Dad is making an amazing recovery. It's nothing short of a miracle.

This is what things were like when I left Phoenix the first of the year. My dad was in a coma and none of the doctors were giving us much to cling to. The best we got were cliches like, "One day at a time," and "This is a marathon not a sprint."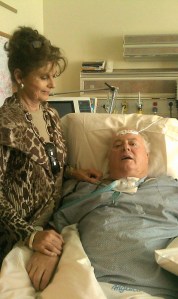 By my next visit – the weekend of January 22nd – things were starting to look up a bit. Dad had been transferred out of ICU to an acute care facility. Here he is with my Aunt Rebecca. During this weekend he was becoming more and more alert but was still very confused about where he was, what was happening and part of the time – who we were. He was still on a ventilator and other various forms of life support, but the respiratory therapists started "weaning" him from the vent and he was able to talk a little bit through a speaking valve. He was the most lucid the day that I had to fly back here and I could hardly force myself to leave!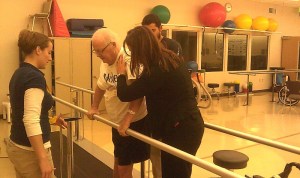 What a difference a few weeks can make!!! I went back to Phoenix the weekend Dad was transferred to the Barrow Neurological Institute Rehabilitation facility and I couldn't believe my eyes. He went from getting very little attention to spending hours a day doing physical, occupational and speech therapy. In this picture, physical therapists Vanessa and Lindsey are helping Dad stand and walk. He had a death grip on those parallel bars but was so happy to be up and moving. By this point in time he was completely off the ventilator and not even needing any oxygen support.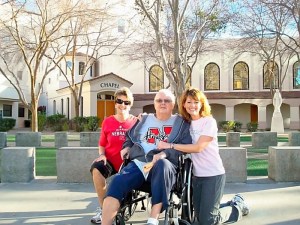 On Valentine's Day we got out and about for a little fresh air and Arizona sunshine. Here we are outside the chapel at St. Joseph's Hospital. One of the best parts about this visit was being able to see how much more clear-headed Dad was becoming. It was as if the cobwebs were clearing more and more each day and he was starting to sound like himself.

These last two pictures my mom took last Friday. Check it out – Lar is standing up by himself!!! My mom also sent pics of him walking with his walker, climbing stairs, working with resista-bands, etc … I think it sounds like a "Workout of the Week" segment. He's very athletic and competitive so he really likes the physical therapy. He's getting stronger every day and continues to impress his doctors and therapists.

This picture is my favorite because it really looks like my dad – like he's really in there. Does that make sense? For so long after he started coming out of the coma he just seemed so out of it and his eyes were glazed over and heavy. Now he is really starting to look and act and sound more like himself. I thank God for that every day, multiple times a day.
I hope you'll tune in Tuesday night at 10 o'clock for a "13 Cares" about a really neat guy (two neat guys, actually). I started working on this story before my dad collapsed and it's really given me a lot of hope during the past few months. I think you'll be pretty inspired, too.
Thanks for stopping by the blog … have a wonderful week.
EEK
Erin.Kiernan@who13.com