This is an archived article and the information in the article may be outdated. Please look at the time stamp on the story to see when it was last updated.
The Des Moines Fire Department is working to put out hot spots after a massive fire in downtown Des Moines destroyed the old Younkers building at 713 Walnut Street.
Firefighters arrived at the scene a little before 1:00 Saturday morning. The call about the fire came in from a Des Moines Fire Department paramedic who noticed the flames while responding to a call on Court Avenue.
****PHOTO GALLERY OF FIRE IMAGES****
Fire department spokesperson Brian O'Keefe says firefighters made their way into the building and up to the fifth floor of the eight story building before determining it was not safe to continue. They retreated to fight the fire from a defensive position.
The flames spread quickly and parts of the building started to collapse with large chunks falling onto Walnut Street. Firefighters worked to keep the flames from reaching other buildings but heat has damaged several surrounding buildings.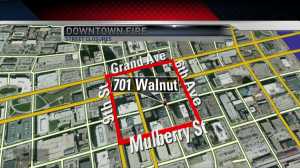 Police have barricaded the street from 6th to 9th Street and Grand to Mulberry in an attempt to keep traffic away from the scene. Traffic downtown is very congested and officials are asking people to stay out of the area. Some skywalk access is also shut down because of fire damage.
MidAmerican Energy has cut the power and gas to the area near the Youkers building.
Fire crews from Clive, West Des Moines, and Urbandale have been helping the Des Moines Fire Department with operations, but Clive and Urbandale have since been released from the scene. Polk County Emergency Management and the Des Moines Police Department are also assisting at the scene.
The building has been cleared, and no injuries have been reported.
Brian O'Keefe of the Des Moines Fire Department describes the evacuation of the old Younkers building.