This is an archived article and the information in the article may be outdated. Please look at the time stamp on the story to see when it was last updated.
The US education secretary says the nation performed poorly on a global exam.
The results of the annual Program for International Student Assessment or PISA were announced Tuesday.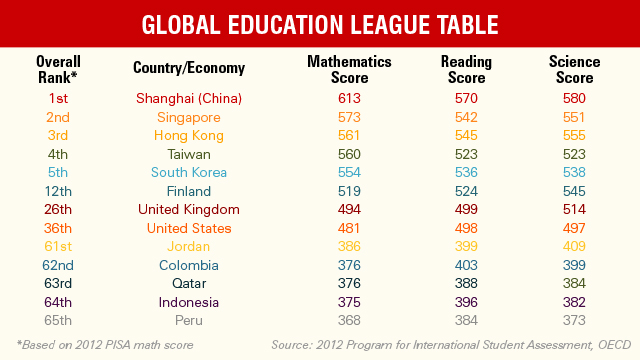 The test considered the worldwide benchmark for educational rankings by country and is taken by more than half-a-million 15-year-olds.
It measures standards in math, science and reading across Europe, North and South America, Australia, Asia and parts of the Middle East.
The US failed to reach the top 20 in any of the tested subjects.
"The problem is not that our 15-year-olds are performing worse today than before – the problem, instead, is that they are simply not making progress. Yet, students in many other nations, as the secretary-general pointed out, are advancing, instead of standing still," Arne Duncan said.
According to the results, Shanghai teens are the smartest in the world. East Asian economies performed best overall, claiming seven of the top ten places across all three subjects.
The US ranked 36th overall performing below the OECD average in mathematics and a score indistinguishable from the average for reading and science.