This is an archived article and the information in the article may be outdated. Please look at the time stamp on the story to see when it was last updated.
INDIANOLA, Iowa — A cancer diagnosis is keeping an Indianola student out of the classroom, but that's not stopping her classmates from celebrating her birthday and fighting the disease by her side.
It's not every day you see an elementary school principal stroll into school wearing foam fingers and a football helmet.
"Our really good friend, our sister Ella is really sick, and today is a special day," Principal Ed Johnson said in front of Whittier Elementary School Tuesday.
"Happy birthday to you … cha cha cha," the students sang.
Right before Christmas, 7-year-old Ella Goering was diagnosed with brain cancer. She is currently receiving treatment in Houston, Texas.
"Her smile can light up a room. We can't wait to get her back," Johnson said.
To celebrate her birthday from more than 900 miles away, Johnson brought the whole school together and did the unthinkable.
"One, two, three," Johnson yelled in front of the school.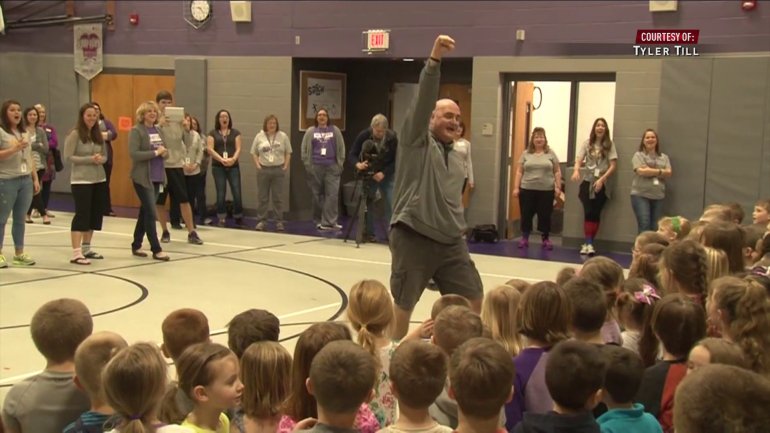 When he lifted off his football helmet on the count of three, he revealed he shaved his head in honor of Ella. The entire school showed their support by wearing gray for brain cancer awareness and mismatched socks because students say that's how Ella likes to wear her socks.
"We have a wonderful, caring culture here in Indianola," Johnson said.
Students were recorded singing "Happy Birthday" and sent it to Ella.
"We hope it puts a smile on her face because she has a smile of gold," Johnson said.
Ella's fight has become Indianola's fight.
"We want her to know we are behind her and her family 100 percent and care about her. We want her to come back so she can make the school better. We really miss her," Johnson said.
He said Ella could be back from Houston as early as next Thursday, March 17.
Want to leave Ella some well-wishes? Comment on our Facebook post below.