This is an archived article and the information in the article may be outdated. Please look at the time stamp on the story to see when it was last updated.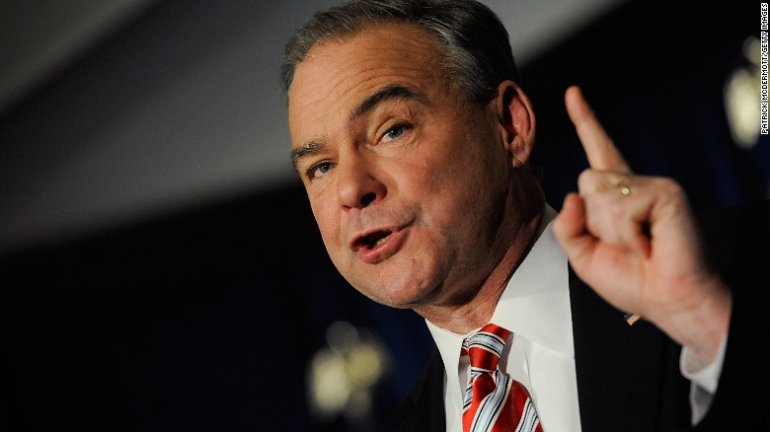 ERIE, Pennsylvania — Sen. Tim Kaine leaned further into the role of vice presidential attack dog Tuesday, suggesting Donald Trump wouldn't stand up to a potential Russian hack of the American election.
The Virginia Democrat also hit Trump for not releasing his tax returns or disclosing business ties to international entities, suggesting the billionaire is "hiding something."
"When candidates are on the up and up, they have no problem disclosing this information," Kaine said at a Pennsylvania organizing event here on the shore of Lake Erie. "Trump's hiding something, and the only question is what."
Hillary Clinton's running mate cast doubt on Trump's intentions, accusing him of having a "cozy" relationship with Russia.
"Don't you think the American voters deserve at least to get to the bottom of why Trump's relationship with Russia is so cozy?" he asked. "We have no idea how he might stand to profit from Russia or what they might be holding over him."
Kaine called into question Trump's willingness to stand up to Russia in the event of a potential cyberattack on the American election, saying Trump has "encouraged Russia to already get in and screw around with our elections."
"Just imagine if Russia were to engage in a cyberattack to destabilize the American electoral process, as it has done with other nations. Would President Trump stand up to them? Well you know, we actually know the answer to that one already, because Trump has publicly encouraged Russia to commit espionage and hack his political rivals," Kaine said, referencing remarks Trump made at a press conference in July.
"When he was challenged on it, he said, 'Well, I was just trying to be funny.' That guy has a weird sense of humor — encouraging Russian cyberattacks on the American political process? Wow, that's just a laugh riot, isn't it?" Kaine said.
A message left with Trump's campaign Tuesday afternoon was not immediately returned.
Kaine, assuming a typical running mate's role in leading attacks against the opposition, has stepped up his criticism of Trump in recent days. Last week, he said Trump was "pushing" the values of the Ku Klux Klan. He backed away from the comments a day later, telling reporters that Trump has some supporters "connected" with the KKK who are "claiming him."