This is an archived article and the information in the article may be outdated. Please look at the time stamp on the story to see when it was last updated.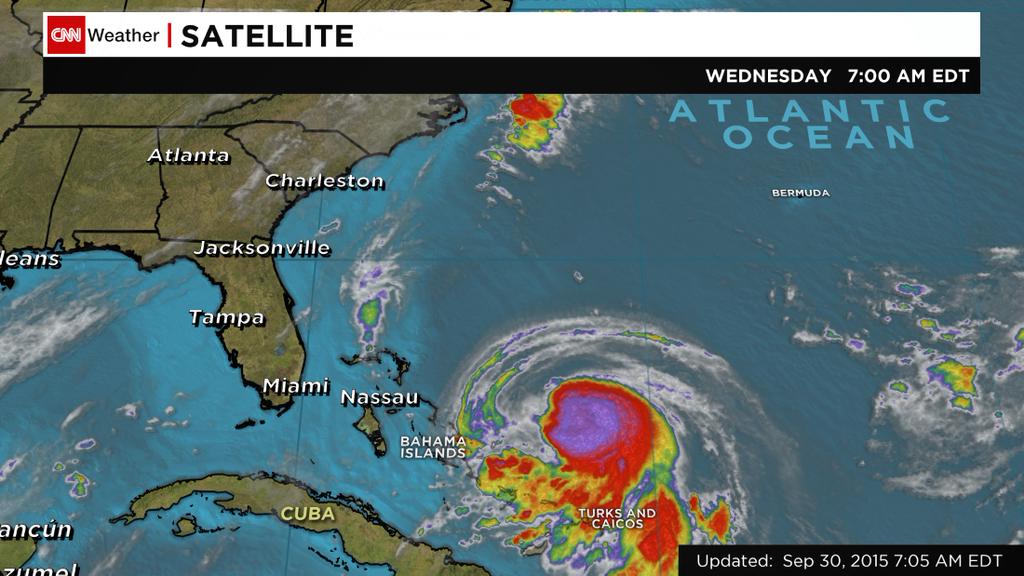 Joaquin strengthened into a Category 1 hurricane in the Atlantic on Wednesday morning, poised to pound the central Bahamas with heavy rain and dangerous storm surges in the next day.
Whether it will hit the eastern United States is an open question, but it eventually could at least send rain to a mid-Atlantic region already dealing with flooding concerns.
Joaquin strengthened from a tropical storm before 8 a.m. Wednesday, with maximum sustained winds of 75 mph (120 kph). Its center churned 245 miles (395 kilometers) east-northeast of the central Bahamas.
A hurricane warning was in effect for the central Bahamas, with the islands expected to experience hurricane conditions by noon Thursday, the U.S. National Hurricane Center said.
Five to 15 inches of rain could fall over the Bahamas' San Salvador and Rum Cay through Friday morning, with up to 5 inches expected over the rest of the central Bahamas, the center said.
But rain and winds aren't the only concerns: Dangerous storm surges — with water levels as high as 4 feet above normal tides — are possible on the Bahamian coasts.
"Preparations to protect life and property should be rushed to completion," the hurricane center said about the Bahamas on Wednesday.