This is an archived article and the information in the article may be outdated. Please look at the time stamp on the story to see when it was last updated.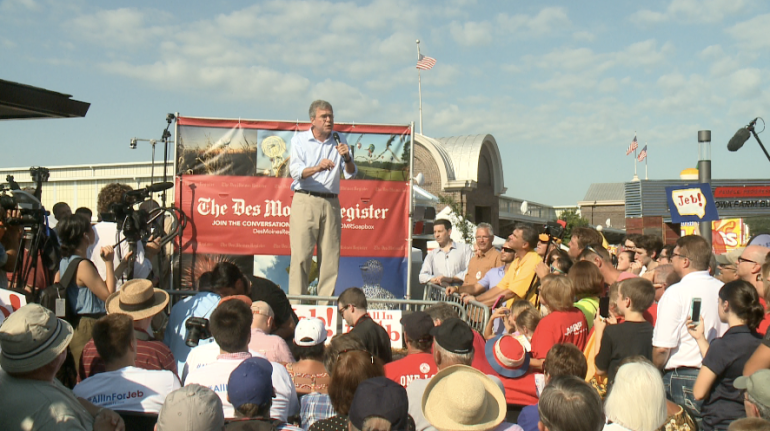 DES MOINES, Iowa – The second day of the Iowa State Fair brought more politics to the people in attendance.
Florida Governor Jeb Bush, who is seeking the Republican nomination for President in 2016, took to the Des Moines Register's Soapbox Friday morning to give his pitch to Iowans and take some questions. Though he touched on many subjects, including education and social security reform, Bush's highlight was on foreign policy and how to combat the terrorist group, ISIS. At one point, a heckler sparred with the governor on his brother, former President George W. Bush, and his decision to sign a deal withdrawing U.S. troops from Iraq in 2011.
"First of all, the Iraqis want our help. They want to know we have skin in the game, that we're committed to this," Bush said.
"We were pushed out in 2011…we had to get out in 2011," a heckler yelled at Bush from the crowd.
"We didn't have to get out in 2011…everyone in Iraq and Washington knew we could have extended that deal," Bush said.
"Your brother signed the deal," the heckler yelled back.
Governor Bush continued to argue the deal to withdraw troops from Iraq in 2011 could have been extended under President Obama and was not, and denied the result of ISIS in the region came from his brother's decision to sign a withdrawal deal for 2011 during his presidency. Bush also said ISIS needs to be eliminated, and called for a plan of action on day one of his presidency.
"When you pull back, voids are filled. And sadly today, we have a void that's been filled – a caliphate the size larger than Iowa. Thousands and thousands of trained forces organized to destroy Western civilization. I'm not exaggerating," he said. "Today, the FBI director says the thing that keeps him up at night are home-grown terrorists. They're inspired by ISIS. We should be taking out ISIS. We should have a strategy to deal with ISIS, rather than admit that we don't have one. Each and every day that they exist, they gain more power. They recruit more people. The next president of the United States – if I'm president – we will have a strategy on Day 1 to take out this great threat to our national security and to the world – I promise you that."
Republican candidate and winner of the 2012 Iowa caucuses, Rick Santorum, will take the Soapbox next on Saturday at 11:30 a.m. Democrats Bernie Sanders and Lincoln Chaffee will also have their time to speak to Iowans from the stand Saturday.