This is an archived article and the information in the article may be outdated. Please look at the time stamp on the story to see when it was last updated.
DES MOINES, Iowa — Teamsters rallied on the steps of the Statehouse on Thursday to protest pension cuts.
After a bill passed in 2014, struggling pension funds were allowed to cut pension plans in order to stay afloat.
Teamsters are fearful that pension cuts slated for July 1 will change the way they live.
"They're telling us it's a 50 percent cut, but maybe it's a 60 percent cut. And after forty years of being in the union, he was supposed to get over $3,600 per month," said Judy Vandall, whose husband is a 68-year-old truck driver. He's still working because his pension is in doubt.
"We've had our home for a long time," Vandall said. "We're going to have to downsize at least two-thirds to be able to afford it on the reduced income. It may be a two bedroom apartment, it may be a senior living place. I don't know yet."
With the Central States Pension Fund expected to go bankrupt in the next 10 years, an investigation was launched by Sen. Chuck Grassley into the Department of Labor's oversight of the fund.
The teamsters hope the investigation will uncover wrongdoing.
"The way the fund was used was corrupt. There was a lot of greed, and there were a lot of hands in the till. When Wall Street manages a fund and did what they did in 2008, common sense will tell you they used the fund to offset their losses," Vandall said.
Mary Packett spoke about how she and her husband didn't have any extra money to put away for retirement.
"All of my son's growing up years, all the money went to medical bills. He was born with a huge heart defect and we had hundreds of thousands of dollars of bills. We didn't have any extra left to put away for retirement. We knew we had his [her husband's] pension we knew we were good to go. We are no longer good to go," she said.
Some politicians are trying to save the pension. Sen. Bernie Sanders co-sponsored a bill that would close tax loopholes on the wealthy, he said, which would save over $11 billion over 10 years.
"We made a commitment 40 years ago to workers in this country that companies will never renege on a pension promise.  We need to restore that commitment," Sanders has said.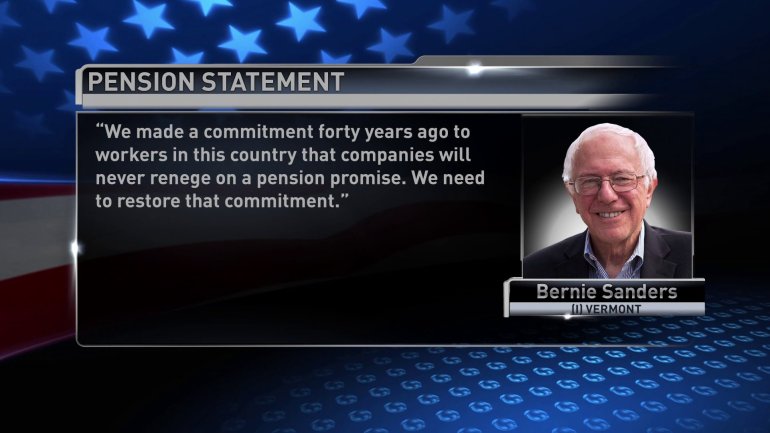 It's a commitment Iowans at the rally say they deserve
"My husband has worked very, very hard. Six and a half days a week, every single week, for this pension and now he doesn't get it — as much as he was promised. Now how fair is that? That is not fair at all," Vandall said.
The group that organized the rally, the Committee to Protect Pensions, is planning a trip to Washington, D.C. on April 12 to lobby members of Congress.