This is an archived article and the information in the article may be outdated. Please look at the time stamp on the story to see when it was last updated.
DES MOINES, Iowa – The Iowa Utilities Board has approved a plan to build an oil pipeline through Iowa. After 17 months of debate, the board unanimously approved the Bakken pipeline Thursday.
The Bakken pipeline would cut across four states, including Iowa. Iowa was the final state to approve the project, despite the concerns of many Iowa landowners.
Dakota Access, the company proposing the pipeline, filed a petition for the pipeline permit with the IUB in January 2015. The permit seeks to construct approximately 346 miles of 30-inch diameter crude oil pipeline through 18 counties in Iowa.
It's part of a 1,168-mile project to carry oil from the Bakken oil fields in North Dakota to an oil transfer station or hub near Patoka, Illinois. The board said it weighed the public benefits of the proposed hazardous liquid pipeline project against the public and private costs and other detriments, as established by the evidence on the record.
The board weighed all of the issues presented by the parties and found the issues of safety, economic benefits, environmental factor and landowners' rights to merit the most significant weight in reaching our decision. Immediately after the vote was taken, protesters began to voice opposition to the board's decision in the hearing room.
Some Iowans also gathered outside the meeting.
Brenda Brink, of Huxley, said she has been against the pipeline since the beginning, saying the government should be doing more.
"The governor should be protecting Iowans. This is an out of state, Texas corporation that just comes in and preys on people who are landowners. Where's the government's help for this?"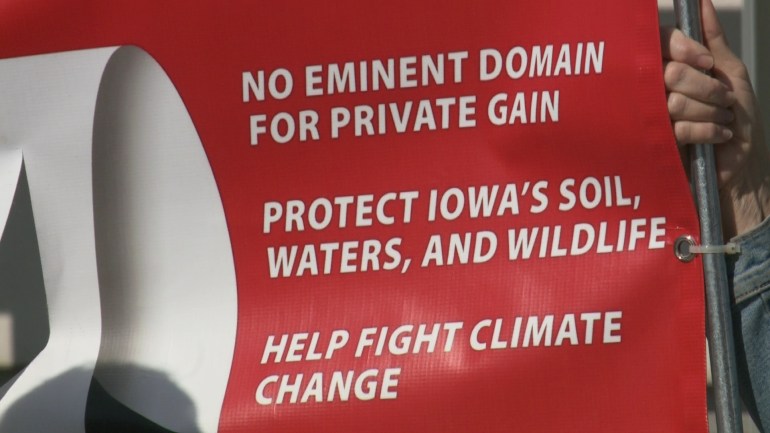 But Chad Carter, vice president of Union 234 for operating engineers, said he is very pleased with the decision.
"It is going to create 300-400 jobs  for our members here in Iowa. It's good for independence in oil," he said.
Opponents say they will appeal the decision in district court.
A recent Des Moines Register poll shows more Iowans are on board with the plan than against it.