This is an archived article and the information in the article may be outdated. Please look at the time stamp on the story to see when it was last updated.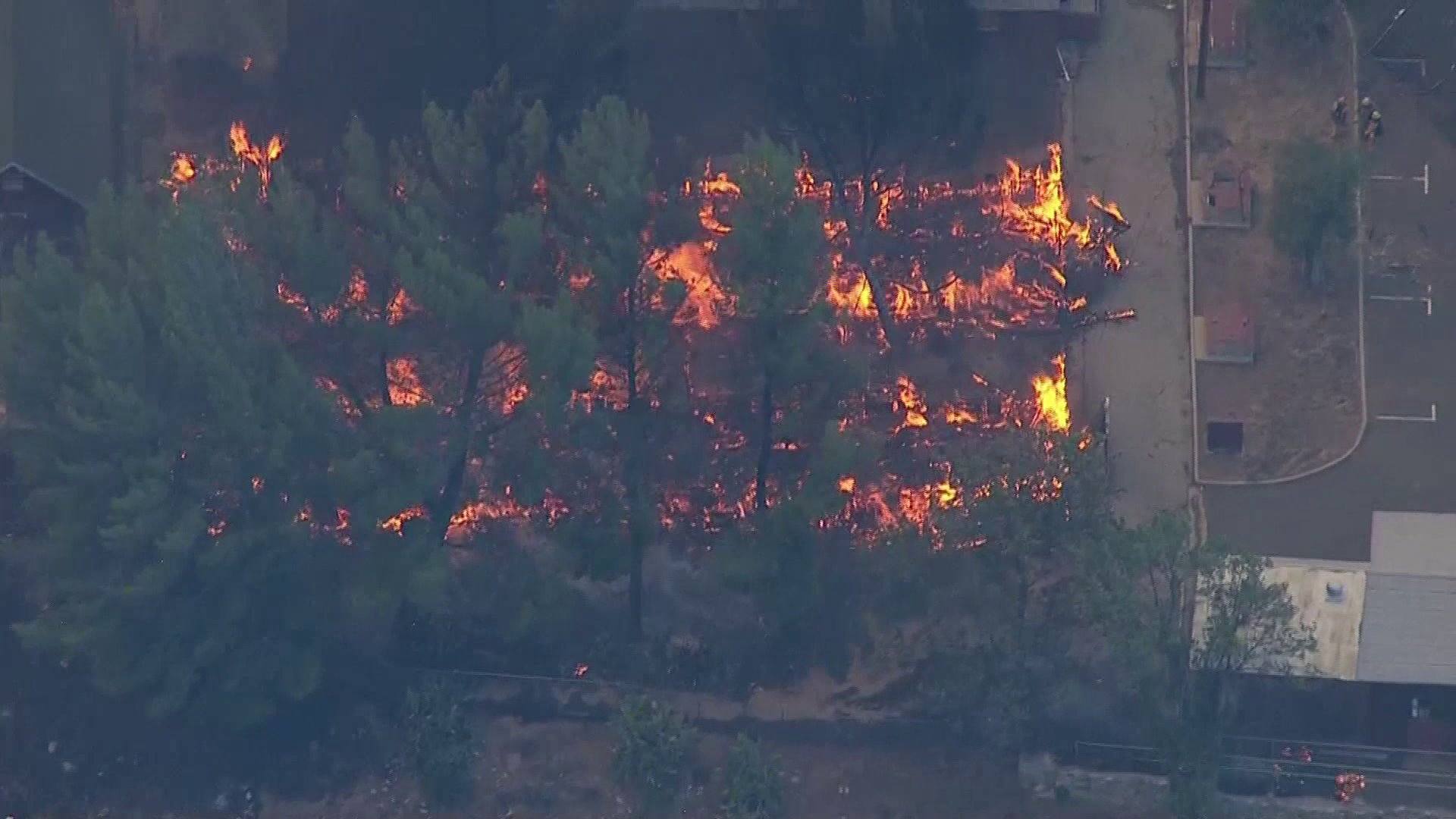 Hundreds of firefighters battled raging flames — fueled by extended drought and scorching heat in Oregon, Idaho, Washington and California.
The wildfires left a trail of destruction, including plunging 9,000 homes into darkness in Washington state after blazes engulfed utility poles outside Chelan.
In California's Angeles National Forest, 10 firefighters were evacuated with minor injuries as a spate of fires raced across the state.
Evacuation orders remained in place in some of the states as flames threatened homes and buildings.
CALIFORNIA
A red flag warning is in effect for parts of California, where four years of historic drought have made it easy for flames to spread.
One of the state's largest blaze — the Route Complex — had razed 28,401 acres and was 28% contained early Monday, authorities said.
It affected Mad River, Dinsmore and Hyampom areas, and started last month following a lighting storm.
Another blaze, the Mad River Complex, comprised seven fires that started last month after a lightning storm hit northern California.
By early Monday, it had razed about 23,000 acres and was 65% contained. At least 19 fires were burning in the state.
IDAHO
The Soda Fire has razed more than 265,000 acres in Owyhee County, in the southeast corner of the state. It was 25% contained with 860 people working to bring it under control, according to the national fire tracking website InciWeb.
The cause of the fire is unknown.
The Lawyer Complex Fire near Kamiah, in northwest Idaho, has destroyed 50 homes, according to the state's Department of Lands.
So far, it is 15% contained, and includes the Old Greer, Kamiah Gulch, Lawyer 6 and Adams Grade fires, across a combined total of around 21,000 acres.
Mandatory evacuations and closures remain in place in some affected areas Monday.
OREGON
The Canyon Creek Complex Fire has razed more than 37,000 acres in eastern Oregon.
Homes have been lost and crews are doing structural assessments now to figure out how many.
"There was nothing we could do — it was gone," Canyon Creek resident Dean Fox told CNN affiliate KTVZ. "Embers were straight at me. We would have to keep hosing ourselves down, because it was so hot."
The fire was caused by lightning. About 300 fire personnel are trying to bring it under control.
WASHINGTON STATE
Wind-pushed fires around Chelan and McNeil Canyon, in central Washington state, burned 38,793 acres and were 30% contained, according to InciWeb.
"It's crazy," said Matthew Anderson, who lives on the outskirts of Chelan. "It is raining ash."
Up to 1,500 evacuation orders are in place, and fire officials are scrambling to come up with a plan of attack.
Lightning strikes started the fires Friday morning, said Jim Duck of the Central Washington Interagency Communication Center.
Eleven separate wildfires forced the closure of the Pacific Crest Trail between Glacier Pass and Holman Pass.
Over 1,000 people have fled Chelan County as the wildfires destroy homes, CNN affiliate KPHO said.
CNN's Joe Sutton and Sam Stringer contributed to this report.