This is an archived article and the information in the article may be outdated. Please look at the time stamp on the story to see when it was last updated.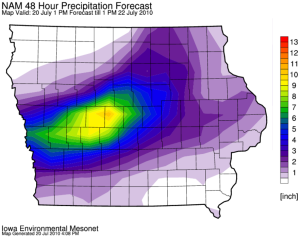 OK…are you ready to be freaked out? That map is a forecast of the expected rainfall tonight through tomorrow morning.
I shows some areas picking up 9 inches of rainfall over west-central Iowa! This is the area that has not seen the heaviest rainfall over the past few days…but it also has the Raccoon and Des Moines River Basins that move the water to the Des Moines Metro.
Before you call Home Depot for a delivery of wood for your arc… I do not think we will see 9 inches of rainfall over that area tonight. I do think there could be up to 3 inches in that region. The extra rain is going to cause flooding.
You might have heard the Army Corps of Engineers at Saylorville Reservoir report that the gates that are along the emergency spillway will not go up. The big air bags that lift the gates are cracked and will not hold air.
If we get the 3 inches of rainfall…the reservoir should have enough extra room for the run-off. If we receive 8 or 9 inches of rainfall tonight north of Saylorville… all bets are off.
No severe thunderstorm watches were out for the area this morning. That could change this evening. Some of the storms tonight could produce damaging wind, large hail and dangerous lightning. Another flash flood watch is also possible.
Stay tuned to WHO HD 13.1 and Iowa's Weather Plus…13.2 today and tonight. Keep those NOAA weather radios with you tonight.