This is an archived article and the information in the article may be outdated. Please look at the time stamp on the story to see when it was last updated.
DES MOINES, Iowa -- Polk County officials are asking for the public's patience as they discuss raising the minimum wage.
"We are the ones that put it on the agenda. So we understand there's an issue. We are trying to address it, and we are collectively trying to put something together that helps people," said Polk County Supervisor Tom Hockensmith.
The Polk County Supervisors and the Minimum Wage Task Force held an open meeting Wednesday to weigh the pros and cons of a minimum wage increase. County officials formed the task force two months ago.
At Wednesday's meeting, some county leaders suggested raising the minimum wage to a range of $9-$12 an hour from the current rate of $7.25. But there was some loud opposition to that suggestion by those in attendance, who want $15 an hour.
Samantha Parker-Frazier works full-time as a nurse at Broadlawns and part-time as a waitress at Jethro's BBQ near Drake University.
She receives government assistance for childcare and food. But as a single mother of four and the sole provider for her kids, that's not cutting it.
"When you're up against how much it costs to live, the cost in taxes, increase in everything else. What we make is just not enough," Parker-Frazier said.
As hard as she works, the single mother says her life is a struggle.
"I personally would like to see the increase happen, considering that it's just so hard to have to depend on the state or the government to back me up when I feel like I should be able to provide for my home," she said.
The marketing director for Jethro's BBQ says the company's workers are paid well.
"Hourly wage for someone that works in our kitchen is $13.97 an hour. Our tip staff make on average 21.77 an hour," Mike Holms said.
Holms concerned that if Polk County raises the minimum tip wage beyond the state level of $4.35 an hour, Jethro's will have a hard time absorbing the cost.
"Even if that minimum wage is raised at the tip level, even $2, it would have cost us last year almost $700K in extra wages," he said.
Holms isn't the only one worried about what could happen to the tip wage.
"The reason that we continue to express our concern about it is that in some states, they've just eliminated tip wage. So it's minimum wage plus tips, and that would be extremely difficult for the restaurant industry," Jessica Dunker, president of the Iowa Restaurant Association.
And while there was no consensus by those at the meeting on what to do, county leaders warned about the possible practical consequence of raising the minimum wage to $15 an hour could be.
"It isn't going to do much good for us in the county, to pass an ordinance that the majority of cities opt out of within a few months of passing it," said Tom Hockensmith, chair of the Polk County Board of Supervisors. "The message is clear: if it's 15 an hour, they're going to opt out."
The meeting was heated at times.
"You need to stand up and represent the people that are fighting to make the mere basics and put food on the table and a roof over their head. And anything less than $15 an hour does not do that," one man said, which drew applause from the crowd.
As to the argument that raising wages would result in businesses cutting back and eliminating jobs, a pastor argued that effect has a clear message.
"My response to that is if jobs in the community don't provide a living for the people working them, then maybe we shouldn't have those jobs anyway," said Rev. David Sickelka, of Urbandale United Church of Christ.
No official action was taken by the board.
One man in the audience was asked to leave after he began arguing with the board.
Watch the entire meeting below:
Below is data showing the cost of living from 2014 in Iowa.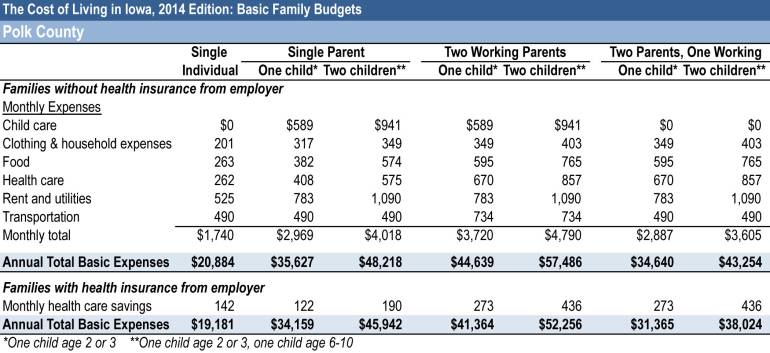 Click here for local minimum wage laws | Click here for information on recent state minimum wage laws