This is an archived article and the information in the article may be outdated. Please look at the time stamp on the story to see when it was last updated.
PASADENA, California — At the beginning of the 2015 season, nobody thought the Hawkeyes would be here.
But here they are, ready for the challenge of playing in the school's first Rose Bowl since 1991, and aspiring to win The Granddaddy of Them All for the first time since 1959.
"It's really exciting to be back here, quite frankly," Iowa head coach Kirk Ferentz said. "We thought we were coming back in '02, and that didn't quite work out. But it's as good as it gets. If you're a member of the Big Ten, I think everybody, it's safe in saying everybody, feels that way."
The annual New Year's Day game is a matchup of two well-deserved teams, No. 5 Iowa (12-1) and No. 6 Stanford (11-2). Each team has enjoyed great campaigns, particularly Iowa, who went 12-0 in the regular season for the first time in school history, before falling in the Big Ten Championship to Michigan State in the final seconds.
"As far as our team goes, as a coach, I'm just happy for them and very proud of them," Ferentz said. "They've had an outstanding season and played well and competed hard each and every game. So really proud of what they did. They've earned the right to play in this game, and that's how you get to the Rose Bowl. There's no – you don't stumble your way into it.
"I think it starts with our seniors, and that's been the biggest story of this team," Ferentz added. "There are a lot of stories with our football team, but as I've said, they've worked hard and had a positive attitude since January when other people maybe weren't this positive."
Ferentz's players, a resilient group who continued to win throughout the regular season despite constant doubters and injuries, are well aware of the magnitude of the Rose Bowl. Arguably the most historic bowl game in college football history is something they've all dreamed about competing in.
"It's an exciting opportunity for us as a team and for the community, for The University of Iowa," Iowa running back LeShun Daniels Jr. said. "It's just an exciting time for us, for our families, friends and fans for us to go out here and come to the Rose Bowl, The Granddaddy of Them All, and compete against an excellent team like Stanford."
On the field, the Cardinal present Iowa's strong defense with a dynamic threat they haven't seen all season long: Christian McCaffrey. The sophomore running back was a Heisman finalist and broke Barry Sanders' 27-year-old record for most all-purpose yards in a season. He totaled 3,496 all-purpose yards to go along with 12 total touchdowns.
The Hawkeye defense trying to slow him down is tied for eighth in the nation in rushing touchdowns allowed and 18th in rushing yards allowed per game. It will likely be the most intriguing aspect of this matchup.
While Stanford quarterback Kevin Hogan is an experienced signal-caller and played in the 2014 Rose Bowl, stopping the Cardinal attack starts and ends with McCaffrey.
"Even though he's small, he's very athletic and elusive," Iowa defensive back Desmond King said, a consensus All-American. "I can see it's pretty hard to bring him down, he keeps his legs moving and when he gets out in open space he can make you miss at any time."
"Well, one thing, he's hard to tackle," Iowa defensive coordinator Phil Parker said. "I mean, I think he has good quickness. He has great vision. He sees the holes before they open. People bounce off him. You better be able to tackle and wrap him up. And I think we've got to do a better job of that. Especially after last game, I think he does a good job. You see guys hitting him, and he doesn't go down."
Like Iowa, Stanford's defense is much better at stopping the run compared to the pass. The Cardinal rank 52nd in the nation in rushing yards allowed per game and 71st in passing yards allowed. The Hawkeyes hang their hat on their bruising run game, and will have a full complement of healthy weapons in the backfield, such as Jordan Canzeri, Daniels Jr. and Akrum Wadley.
"The coaches have done a really good job putting together a good game plan," Iowa quarterback C.J. Beathard said. "It's a matter of us executing that game plan. They do a lot of good stuff defensively, and we know that going into it. They run some three down defense, some four down. We're just going to have to be prepared when we see which and what we're going to get. I'm sure we'll get a changeup in there and some different looks. But we just have to be prepared for that."
Going into the Rose Bowl, the Hawkeyes are in a familiar position of being counted out as the underdog. Stanford does have the experience of playing in this game recently, something Ferentz said does play a factor. However, he added Iowa has been in playoff mode every game this season and just played on a big stage in Indianapolis in the Big Ten Championship.
Hawkeye fans have traveled miles and avoided snow storms to witness one of the most memorable seasons come to end on Friday night, and everyone in black and gold hopes it culminates with a Rose Bowl Trophy.
"Yeah, obviously the fans out there are excited and we're excited as well," Beathard said. "We're going to enjoy the opportunity and embrace every aspect of it. But we're here for one reason, and that's to get a win on Friday. It's another game. It's the final game of the season. What better way to go out of the season than with a win."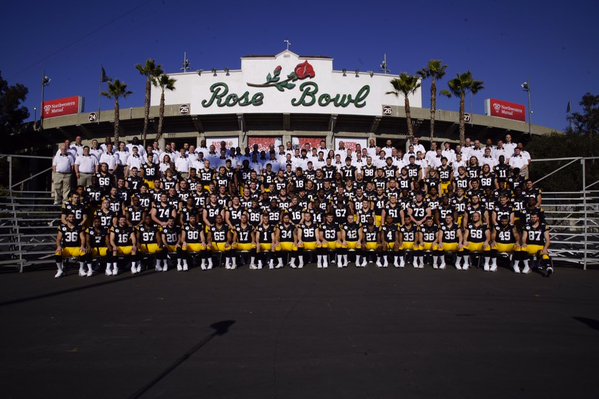 Game Information
Location: The Rose Bowl, Pasadena, California
Time: 4 p.m. (CT)
Television: ESPN
All-Time Series Record: First-ever meeting