This is an archived article and the information in the article may be outdated. Please look at the time stamp on the story to see when it was last updated.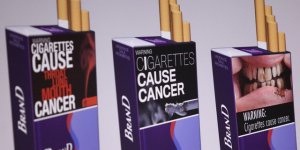 (Photo courtesy: Associated Press)
Warning Watch:
Cigarettes can be bad for you. I can't imagine there is anyone in our country who doesn't know that. But, yet, people still smoke. My dad is one of them. He smokes a lot. Wish he didn't. Politicians have raised taxes. They have said it's for people's health, not the millions in revenue the tax increases bring. Iowa's Governor Chet Culver successfully pushed for a $1 per pack tax increase (by the way, did you notice during the campaign how he kept saying he didn't raise taxes? Does a cigarette tax not count as a tax?) The smoking rate has dropped in half since the 1970s? But still about 1 in 5 American adults smokes. What will it take to get to that final "1"?
Health advocates have hope in a new tactic: to scare you smokeless.
The idea would be to put really graphic pictures to serve a final warning to you as you get ready to buy your next pack. The pictures are gross, without a doubt. But will they work? Do you think they will stop smokers? Or is this just a waste of time, money and effort?