This is an archived article and the information in the article may be outdated. Please look at the time stamp on the story to see when it was last updated.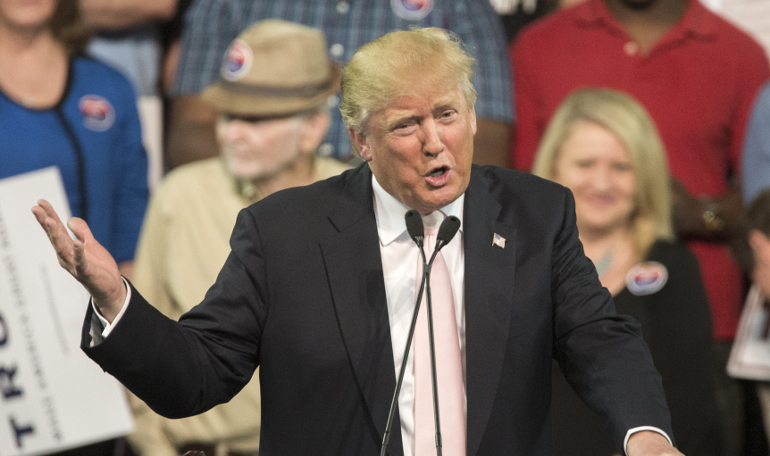 WASHINGTON — Donald Trump appears on track to secure the GOP presidential nomination, and Republican lawmakers are starting to go public with their private anxieties about running on the same ticket as the unpredictable billionaire businessman.
House Speaker Paul Ryan had one brief conversation with Trump at a political event when he was Mitt Romney's running mate in 2012, but hasn't spoken to him since. House Majority Leader Kevin McCarthy made headlines recently saying he could work with Trump, but an aide tells CNN the two have never sat down together.
Senate Republican Leader Mitch McConnell has acknowledged he received political donations from Trump, but the last time they spoke was by phone last year. Like Ryan, McConnell regularly refuses to comment on the GOP presidential contest, other than saying that he thought the Republican nominee in 2016 should be someone who can win in "purple states."
With Trump poised to rack up more wins in several states voting on Super Tuesday the reality of a reality star leading the Grand Old Party this fall is starting to sink in on Capitol Hill.
The No. 2 Senate GOP leader, Sen. John Cornyn issued the strongest warning to date on Monday about Trump telling CNN, "We can't have a nominee be an albatross around the down-ballot races, that's a concern of mine."
Cornyn said he has met Trump but never thought he would run for president.
"I think he certainly is a controversial figure — I think we need someone who can unify the party, as opposed to divide the party," he said.
Rep. Scott Rigell, a Virginia Republican who is not running for re-election, said Tuesday that Trump "is not a Republican" and he cannot support the billionaire. "My love for our country eclipses my loyalty to our party, and to live with a clear conscience I will not support a nominee so lacking in the (judgment), temperament and character needed to be our nation's commander-in-chief," Rigell wrote in a letter, according to WAVY. "Accordingly, if left with no alternative, I will not support Trump in the general election should he become our Republican nominee."
Asked about Rigell's repudiation of Trump, Ryan declined to comment directly, but repeated that he planned to support his party's nominee for president.
Sen. Ron Johnson, who is up for re-election in the blue state of Wisconsin, told reporters Monday, "I literally pray every night that our nominee is someone with integrity, intelligence, courage and ideas — so I'm going to keep praying."
Asked if that could be Trump, Johnson wouldn't be pinned down.
"We'll see how this process plays out," he said.
Rep. Chris Collins of New York is one of the few Republicans on the Hill who does have a relationship with Trump, telling CNN the two met in 2014 to discuss the businessman's interest in a possible gubernatorial race. Collins initially backed Jeb Bush for president, but became the first member of Congress to endorse Trump last week.
The New York Republican predicted GOP anxiety about Trump will fade, "because Hillary Clinton is the big uniter. The Supreme Court — bigger issues are at play. First, Second Tenth Amendment and Supreme Court are at play. She is the great uniter."
But another New York Republican, Rep. Peter King, said on CNN Monday that Trump becoming the standard bearer for Republicans, would at best "be a short-term victory" but on balance "it's a terrible loss."
King said initially he thought Trump had the potential to bring new voters into the Republican Party. But after a string of controversial comments, King endorsed Sen. Marco Rubio last week, and said if Trump won the nomination, "he's going to put a scar on the party that we're not going to recover from for a long time."
But the Senate's most senior Republican, Orrin Hatch of Utah, struck a more conciliatory tone. He said if Trump does beat his preferred candidate, Rubio, he could campaign for the real estate mogul.
"If he's our nominee, I'll do everything I can to elect him," Hatch told CNN.
Multiple Republicans CNN interviewed did agree that having Trump face Clinton in November was better than having Texas GOP Sen. Ted Cruz as the party's nominee, because Trump's appeal wasn't limited to just conservative primary voters. But few have a firm grasp on what it would be like to work with a President Trump if he took office in 2017.
"We disagree on taxes. We disagree on privacy. We disagree on private property. He doesn't seem to understand Obamacare," one senior House GOP leadership aide told CNN, adding, "Donald Trump in the Republican primary is supposed to be different than Donald Trump in the general, so I don't know."
While Cornyn is sounding alarm bells about the damage Trump could do, other Republicans say whether or not Trump is a positive or a negative factor is a function of where you live.
South Carolina Rep. Mick Mulvaney pointed to polls showing Trump running competitive nationally, saying he can help GOP candidates in places like the Northeast where the party has struggled in the past.
"How does having a Republican presidential candidate not help you if you are running in upstate New York, or even in Connecticut or Massachusetts or Pennsylvania?" Mulvaney, who hasn't endorsed anyone since his preferred candidate, Sen. Rand Paul of Kentucky, dropped out of the race. He told reporters he still hasn't seen any evidence that Trump works against Republican candidates.
Rep. Scott Garrett, who represents a competitive northern New Jersey district, told CNN his constituents know Trump better than most others across the country. He hasn't endorsed anyone in the race either, and asked what it would be like to work with a President Trump, Garrett begged off, telling CNN, "different from this administration, how's that?"
Even Collins acknowledged "there's a lot of division" and there are "some worry warts" trying to figure out how the businessman's high profile and sometimes controversial comments mean for them in November.
Oklahoma GOP Rep. Tom Cole, a former chair of the House GOP's campaign committee, has never met Trump. He told CNN that Trump and other GOP presidential candidates' stinging criticism of the Republican controlled Congress amounted to a "cheap shot" that hurts the party as it works to prove it can get things done.
"They're all playing into the anger. We had a pretty successful year last year and Republican presidential candidates telling Republican voters that the Republican Congress is the problem I think is exceptionally short sighted," Cole told CNN.
Arizona Sen. John McCain, the 2008 Republican presidential nominee who is running for re-election this year told CNN, "all of us are concerned, of course — about the divisions in the party."
While Cole wasn't ready to say Trump had the nomination locked up, he disagreed with the assessment of others in his party who believe he'll pose a problem for congressional candidates.
"We're seeing really intense Republican energy and turnout and I think that will happen in November," he said.
Ryan stresses in national interviews that his most important job in 2016 is fashioning a detailed policy agenda for the eventual GOP nominee. But while top House GOP leaders and committee chairman are crafting legislation on a range of issues like replacing Obamacare, reforming the tax code, overhauling federal anti-poverty programs, it's unclear any of their proposals will be embraced by Trump.
Ryan continues to say he'll support whoever the nominee is, but he declined several attempts at his weekly press conference to explain why he thought Trump would endorse a platform developed by the same Republicans in Congress he has been running against for months.
Trump's success so far is based on avoiding specifics, and Collins argued he should avoid getting in the weeds on policy issues.
"I think his leadership as a chief executive, his staying on the almost Reaganesque topline message: 'make America great again,' he's going to secure the borders, he's going to bring jobs back from China, stand firm with Russia, Iran, North Korea and ISIS. Those topline messages absolutely resonate throughout the country," Collins told CNN.
Cole told CNN that despite the rough primary rhetoric, he believes by time the political convention rolls around this summer that it's possible for the party to unite.
"You'll be amazed how quickly the wounds heal up, how fast everybody becomes 'good friends,'" he said.
CNN's Tom LoBianco contributed to this report.