This is an archived article and the information in the article may be outdated. Please look at the time stamp on the story to see when it was last updated.
WEST DES MOINES, Iowa --  Roughly 1,200 law enforcement officers from around the country, as well as the public, gathered to honor slain police officer Sgt. Anthony Beminio at a funeral service Monday morning at the Lutheran Church of Hope in West Des Moines.
Before Des Moines Police Chief Dana Wingert gave Sergeant Beminio's eulogy, every officer in attendance walked in front of Sgt. Beminio's flag covered casket and saluted.
Chief Wingert began his eulogy by saying he was completely heart broken and thanked his department for stepping up during this tough time. The Chief described Beminio as the perfect sergeant, both inside and out, and said that he made the department stronger.
"Tony didn`t just cheer for the underdog, he lifted them up," said Chief Wingert. "If someone was struggling, he helped them out. If they stumbled, he lifted them back up and put them back on their feet. It wasn`t necessarily his job or his place. He did it because it needed to be done. He did it because it was Tony."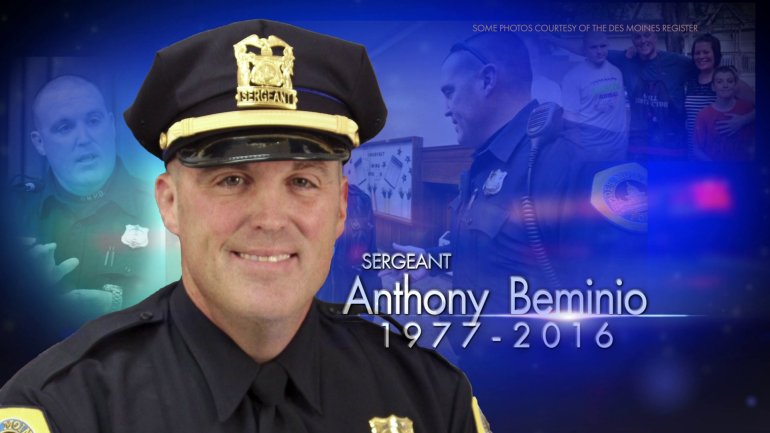 Sgt. Beminio was also known as a family man, always talking about his children and their activities. Chief Wingert also made a promise to Sgt. Beminio's wife and three kids.
"This DMPD family will close in on you and wrap your arms around you," said Chief Wingert. "They will always be there for you and take care of you. You will never be lonely or walk in fear. They know what their responsibilities are and they will not let you down. You have my word on that, I watch this happen every day. I know these people. They will not fail you."
The Chief added the strength of the Des Moines Police Department doesn't come from him. It's woven throughout the entire police department. He is also asking for the community to stay committed to its support of the department as it begins to move forward.
The man police say killed Sgt. Beminio and Urbandale Officer Justin Martin, Scott Greene, made his first appearance in court last Friday. He's charged with two counts of first-degree murder.