This is an archived article and the information in the article may be outdated. Please look at the time stamp on the story to see when it was last updated.
BOXHOLM, Iowa – An early morning house fire killed a mother and three children in Boone County Sunday.
Emergency crews responded to the home, located in the 300 block of Beech Street in Boxholm, at about 1 a.m. Sunday. When firefighters arrived, the back half of the house was fully engulfed in flames. Investigators say the fire likely started due to a space heater.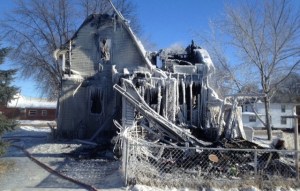 Boxholm Fire Chief Dave Huffman says four family members were killed in the fire; the mother and three children. Officials have identified the victims as Amber Sorenson, 27, Riley Sorenson, 9, Autumn Sorenson, 6, and Brayden Sorenson, 4. All four victims were found together in a room, before being taken to the state medical examiner's office in Ankeny, according to investigators.
"We changed crews and they went back into the room and broke the door down and got in, that had to be the bedroom they were hiding in," Huffman said. "They had used a towel, wedged under the door to keep the smoke from coming into the room."
John, the husband and father of the Sorenson family, was at work at the time of the fire, according to authorities. He is a jailer and also a Boxholm volunteer firefighter.
"It`s the most devastating thing to ever think about," said Rick Carlyle Jr., a resident of Boxholm. "You go to work and you come home, and you`ve lost everything and I mean everything."
Chief Huffman says the weather hampered efforts to fight the fire, due to extremely cold temperatures. Boxholm's fire crew requested mutual aid from surrounding community fire departments, including Pilot Mound, Boone, Dayton, Grand Junction, Ogden, Paton, Lehigh, and Gowrie.
"We had a tough time, there were nine fire departments," Huffman said. "We froze up six trucks, two fire hydrants, and drained a water tower. (We) hauled water from three miles south of town at the Xenia Rural Tower and froze it up. Then (we) ended up going six miles away and hauling water from there."
Following the tragedy, a GoFundMe page has been set up and the close-knit community is rallying behind John Sorenson by helping raise thousands of dollars.
"The whole community is in shock right now and it's going to take some time to get over that," said Carlyle Jr.