This is an archived article and the information in the article may be outdated. Please look at the time stamp on the story to see when it was last updated.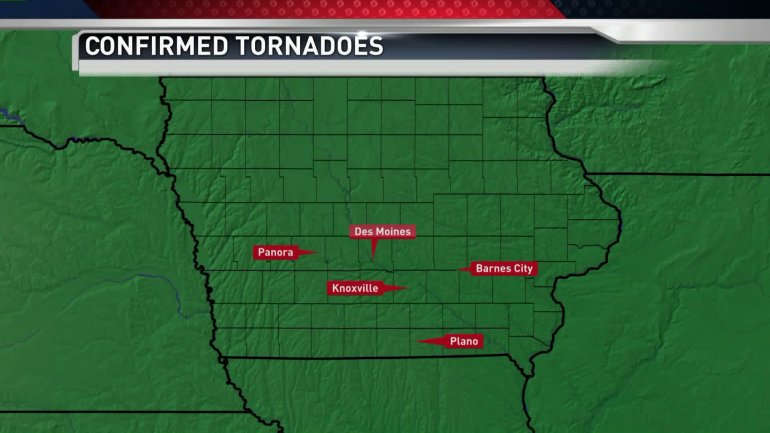 DES MOINES, Iowa — Survey crews with the National Weather Service will return to Iowa Friday to determine how many tornadoes touched down in the state on Wednesday.
Initial reports said there were at least nine tornadoes in Iowa on November 11th. So far the NWS has confirmed five of those tornadoes:
An EF-0 tornado struck at 2:58 p.m. about 4.8 miles southwest of Yale in Guthrie County
An EF-2 tornado struck at 3:24 p.m. about 6.5 miles northwest of Plano in Appanoose & Monroe countis
An EF-0 tornado struck at 3:27 p.m. at the Des Moines Airport in Polk County
An EF-1 tornado struck at 3:43 p.m.  in Knoxville in Marion County
An EF-1 tornaodo struck at 4:23 p.m. about 2 miles southwest of Barnes City in Mahaska & Poweshiek counties
The National Weather Service expects to confirm more tornadoes in the state following a survey of storm damage and an examination of storm data.
The NWS plans to investigate the following areas for signs of possible tornadoes:
Southern and Eastern Wayne County
Eastern Taylor, NW Ringgold, and SW Union Counties
Central Union County
North Central Ringgold County
Central Adams County around Corning
Dallas County NW of Adel
Madison County (Multiple Areas of Interest)
North Central Boone County
Eastern Marshall County
Southwest Jasper County
Northeast Des Moines