This is an archived article and the information in the article may be outdated. Please look at the time stamp on the story to see when it was last updated.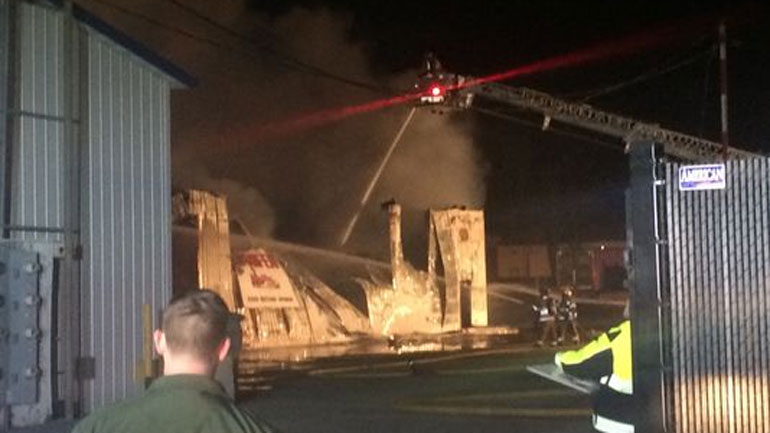 POLK COUNTY, Iowa — A four alarm fire at a business north of Des Moines Thursday night left behind more than a $1 million in damage.
A garage at Hanifen Towing in Saylor Township was destroyed by the fire, along with six of the business' tow trucks.
Fire crews were called to 5329 Northwest Second Street at 10:14 p.m. after a Polk County Sheriff's deputy spotted the flames as he was driving by.
Firefighters from Saylor and Delaware townships, Altoona, Ankeny and Johnston helped put out the fire. Tanker trucks from Grimes and Polk City also provided water at the scene.
"When I first pulled up, it was within about ten minutes after the call went out, the building was fully involved.  Flames coming out the top, the sides all the way around," says Saylor Township's Fire Chief Randy Jackson.
Jackson said tires exploding as well as downed power lines made the fire dangerous to fight.
He said crews stayed on scene for several hours.
"The initial big fire was probably under control within the first hour and we stayed on scene until about 2:15 in the morning just hitting hot spots and stuff," says Jackson.
The fire was contained to one garage on the property and no one was hurt.
The company's president got to the scene before firefighters did.
"We got the call around 9:30 saying that my building was on fire and 12 minutes later when I arrived it was fully engulfed and you can see what happened," says Julie Hanifen.
Hanifen says they are still open for business and have 29 other tow trucks that were not damaged in the fire.
"The good news is nobody got hurt, the good news is we`re still in business, still towing, so don`t hesitate to call," says Hanifen.
The State Fire Marshal's Office is investigating the cause of the fire.